Top 5 Bathmate Penis Pumps
Bathmate penis pumps use water rather than air to create a vacuum around the penis, which can help it to feel and look bigger. Find out which pump is best for you with this handy guide.
Lots of men decide to try using a penis pump to help them achieve a larger manhood in minutes, and with Bathmate's innovative design, the water does all the work for you! Here are the 5 best Bathmate pumps and accessories for all your pumping needs.
Video: The 3 Types of Penis Pump
Find out more about the 3 main types of Penis Pumps with this video from Lovehoney.
How does it work?
As the name suggests, Bathmate pumps are designed to be used with water in the bath or shower. Unlike regular penis pumps, which use air to create a vacuum around the penis, Bathmate products use water to make a more consistent, powerful and uniform vacuum. This means that the growth in length and girth may happen more evenly, leading to a penis that might look bigger all over, without the bulging that some users of other penis pumps report.
The pressure created by the vacuum is designed to encourage blood flow to the penis, which can engorge the tissue and could increase your size. Because of the patented bellows pump system that Bathmate uses, the change to the penis usually happens steadily over several stages, ensuring fresh blood continues to flow into the penis. Many experts claim this renewal flushes out toxins in the penis which could contribute to erectile dysfunction - but this theory hasn't been proven by doctors. However, the NHS reports that 9/10 men who suffer from erectile dysfunction are able to have sex after using a vacuum pump like the Bathmate, so it's worth looking into if you suffer from ED.
Using your Bathmate for 15-20 minutes a day may show immediate growth, but consistent use over 6 weeks is more likely to give optimal results.
What are the different types of Bathmate?
So you've decided to buy a Bathmate, but which should you choose? Below, we've explained the differences between the different Bathmate pumps. Bear in mind that your pre-pump penis size could determine which Bathmate is suitable for you, so take a moment to measure your erect length from the pubic bone to the tip, and the circumference at the widest point of your penis.
Bathmate Original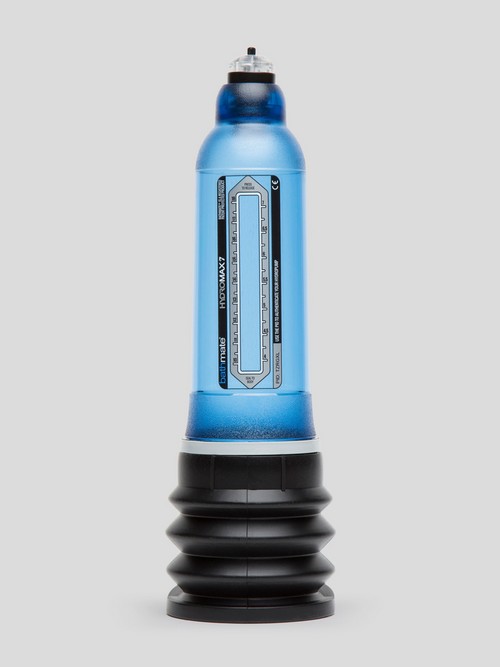 The Bathmate HYDRO7 Penis Pump (formerly known as Bathmate Original Hercules 3.0 Hydrotherapy Penis Pump) is the best-selling Bathmate pump, and it's the perfect choice for beginners.
This model has a quick-release valve that doesn't feature the bellows pump system of the more advanced Bathmate products, making it an ideal starter pump for men who want to work their way up to more pressure. The easy-to-use valve is simple to release in seconds if you want to end your session quickly.
It's also the most affordable Bathmate pump.
Size-wise, the HYDRO7 is perfect for men with a pre-pump erect length of under 7 inches and a girth of up to 5.7 inches. The pump has been designed to allow room for growth.
Bathmate HYDROMAX Series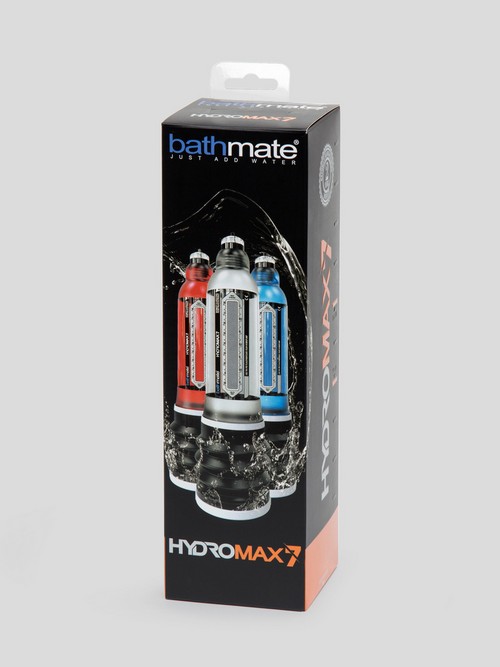 The Bathmate HYDROMAX Series boasts 35% more power than the original Bathmate due to the enhanced bellows pump system which creates the maximum vacuum pressure allowed by the FDA.
Other differences include the addition of a removable sealing ring that offers more comfort around the base of the penis and testicles while in use, and an improved valve that can be closed completely to allow for one-handed filling.
A great choice for anyone getting serious about pumping, the HYDROMAX range is available over a range of sizes, ensuring the best fit for your length.
The HYDROMAX3 is designed for a or pre-pump erect length of 1-3 inches and girth of under 6 inches. Men with a pre-pump erect length of under 5 inches and a girth of under 6 inches should choose the HYDROMAX5 for best results. The HYDROMAX7 is best suited for men under 7 inches in length and 6 inches in girth. The HYDROMAX9 is the largest standalone Bathmate pump sold at Lovehoney and is best for men with over 7 inches in length and up to 7.5 inches in girth. The HYDROMAX7 WIDE BOY is designed for men with erections of 5-7 inches in length and up to 7.5 inches in girth.
Bathmate HYDROXTREME Series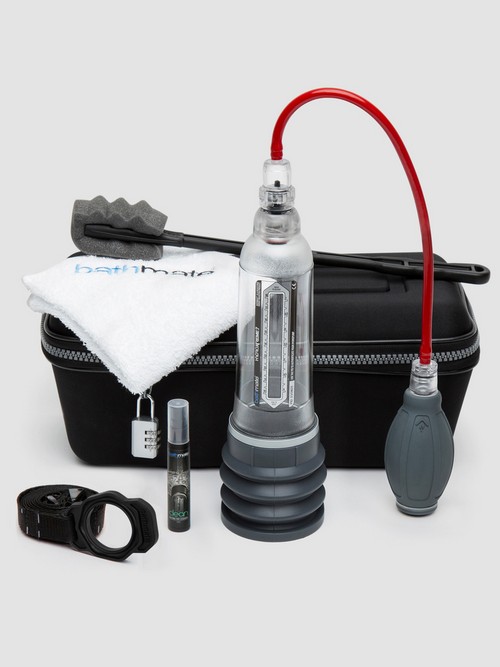 The Bathmate HYDROXTREME series is most suitable for advanced users. This range has all the benefits of the HYDROMAX Series, with the addition of a hand pump to allow for more controlled pumping.
The HYDROXTREME pumps also come with an exciting array of accessories to maximise your results, including a luxury storage case with lock, cotton towel and shower strap.
How do I use a Bathmate pump?
All Bathmate pumps are designed to be used with warm water in the bath or shower. Start by closing the top of the pump. If you're using the Bathmate HYDRO7 Penis Pump, you'll need to hold the black pip down with your finger and keep it in place while filling. If you're using a pump from the HYDROMAX series, you have to click the black pip to the side. Finally, for pumps in the HYDROXTREME range you must lock the valve by rotating it clockwise before clicking the pip to the side.
Once the valve is closed, fill the pump up with water and place the cylinder over your flaccid penis. Release the pip and pull the pump slowly towards your body to create a seal. Slowly release away from your body. Water will spray from the tip during these initial steps.
Begin pumping the Bathmate slowly. You'll start to feel the pressure building and your penis will become erect. Keep pumping until no more water emerges from the top of the cylinder. This means you've reached maximum pressure. Now it's time to leave the Bathmate in place (without pumping) for 5-6 minutes.
After the time is up, release the valve by pressing it down on each side. If you're using a pump from the HYDROXTREME series, you'll have to unlock it first by rotating the valve counter-clockwise.
Repeat this process 1-2 more times. After 3 reps, you should have reached optimal growth for that session. Don't use your Bathmate for longer than 15-20 minutes in one session. You can repeat this process once a day, and after 6 weeks you may have a bigger, girthier manhood.
Bathmate Penis Pump Shower Strap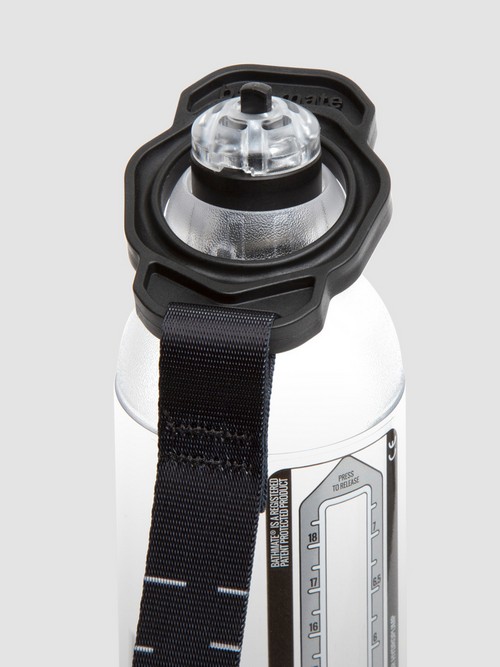 If you're using your Bathmate in the shower, you may find the Bathmate Penis Pump Shower Strap useful during this time - it connects to the tip of the pump and wraps around your neck to keep the Bathmate in place while you wait, leaving your hands free.
Bathmate Trim USB Rechargeable Hair Grooming Kit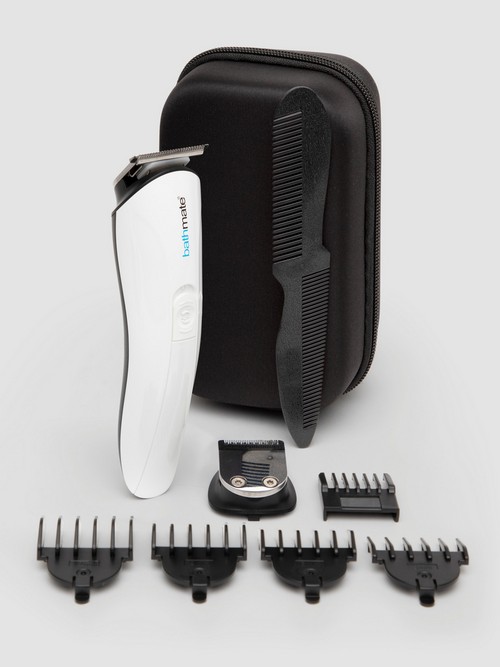 A good ol' trim will help give you a good seal for optimum suction when using your Bathmate - which is where the Bathmate Trim USB Rechargeable Hair Grooming Kit may come in handy. It lets you manscape away with a choice of regular or precision blades with 4 length settings on each, and it's also USB rechargeable.
Recommending Bathmate Products
More Sexual Happiness Advice
You can never know enough about sex, right? Join us on our sexploration journey via the thriving Lovehoney forum, our weekly Sexual Happiness podcast and our blog.