6 Ways to Rock Wet Look Lingerie
Grab your latex polish, and check out our top tips for bringing wet-look lingerie into your life.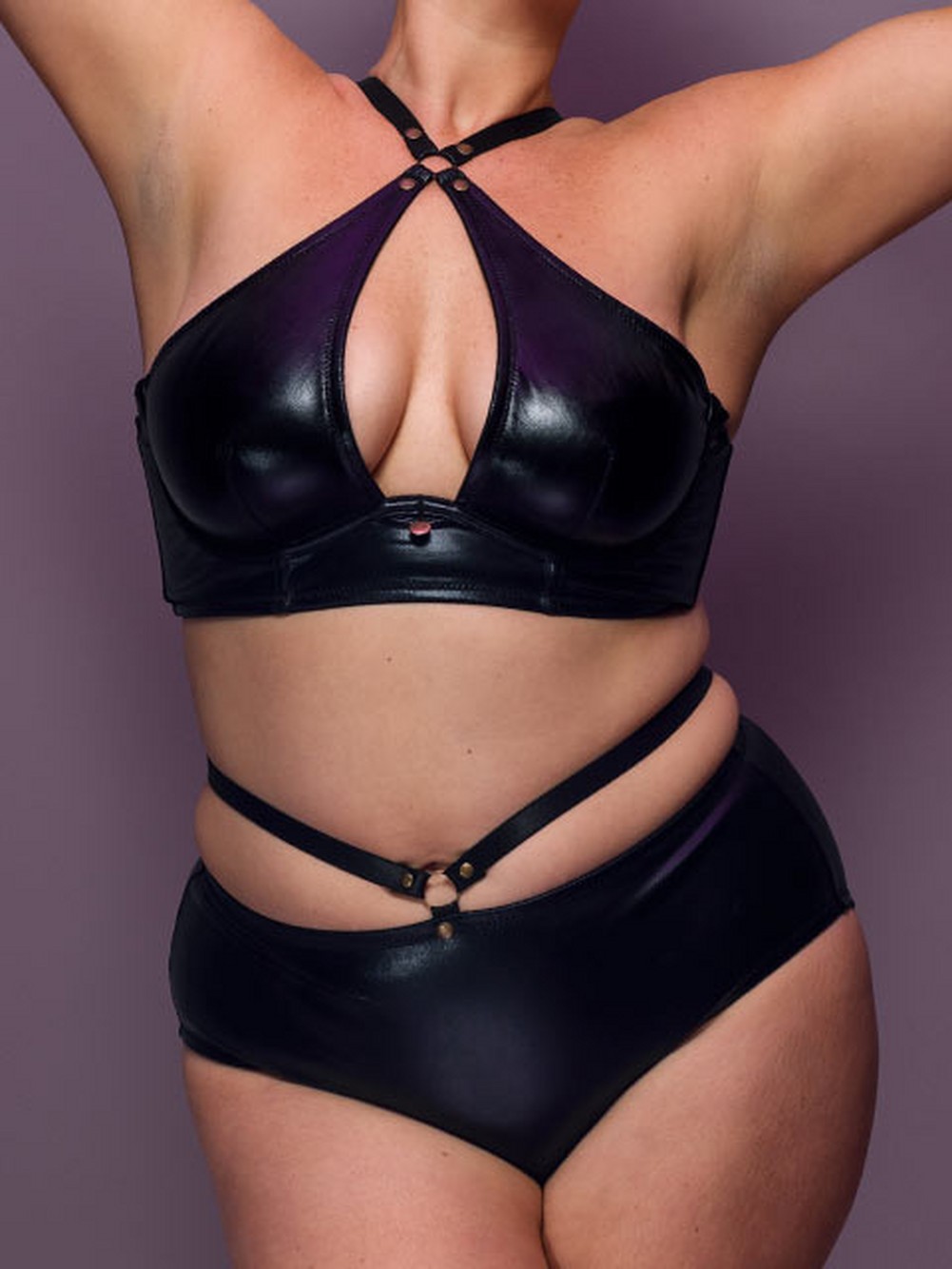 For many, the idea of wearing wet look clothing can seem a little daunting - after all, isn't the land of black-and-glossy fabrics reserved for the dungeon?
However, we here at Lovehoney think that slipping into a little wet look lingerie is a simple-but-sensationally-sexy way to vamp up your wardrobe. You just have to look in your local high street clothes shops to see that wet look clothing is no longer something that you find in a shifty backstreet store with blacked-out windows.
From leggings, to coats, to PVC-trimmed dresses, it's out there. It's - dare we say it - mainstream. Heck, you've probably got a faux leather jacket or some knee-high boots stashed away in your wardrobe already, and haven't even given it a second thought.
So, how do you work it into your boudoir threads without feeling a little, well, silly? Well, grab your latex polish, and check out our top tips for bringing wet-look lingerie into your life. After all, isn't it your time to shine?
Own your sexual power in Lovehoney Fierce
1. Focus on Your Favourite Bits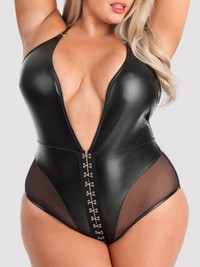 The first thing you want to do when selecting your first piece of wet look lingerie is decide which bits of your bod you want to highlight most, and which you might not want to draw attention. If you focus on your favourite body parts (and this goes for selecting any lingerie), then you'll automatically feel happier and more confident in yourself, which in turn makes you sexier to your partner. It's a win-win!
For instance, if you're proud of your boobs, you might like to try the Lovehoney Fierce Plunging Body. The deep V-neck put your breasts centre-stage, whilst the contoured panelling flatters your midriff.
Or, if you're keen to show off your tummy area, then slip on the Lovehoney Fierce Zip-Up Crop Topinstead.
2. Get the Right Fit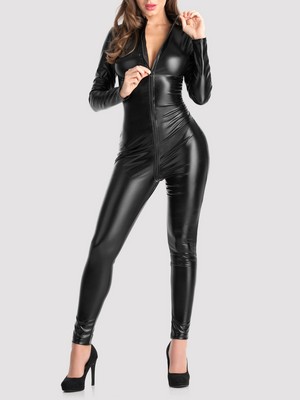 By nature, wet-look lingerie is designed to be fitted, otherwise it can look like a little... bin-liner-y. So when you're choosing your lingerie, it's important to be sure that the size is just right. Too tight, and it could be uncomfortable; too loose, and it will hang off you like a tarp in the breeze.
The good news is that we have a wide range of sizing options for you. Depending on the item, our sizes can start at a size 4 and go up to a size 34 in some of our plus ranges, so you're almost certain to find something that's just right.
If you are in any doubt about the best fit for you, it's always a good idea to check the item reviews from our other customers. You can find lots of useful information there, and if you're between sizes, it can really help you choose which size is best for
3. Start with Something Small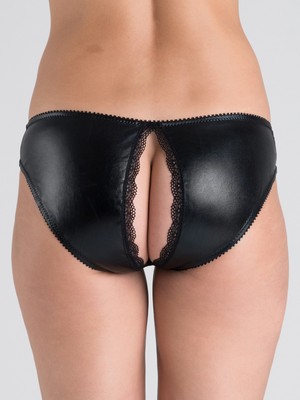 If just the thought of a head-to-toe PVC catsuit is enough to bring you out in a sweat (and you certainly wouldn't be alone there), then it's probably a good idea to opt for something a little less intimidating to begin with.
The Lovehoney Wet Look Open Back Briefs are made from glossy wet look fabric that hugs your shape in a classic style, but they feature a cheeky open back for uninhibited access. Can you say, kinky?
4. Mix It Up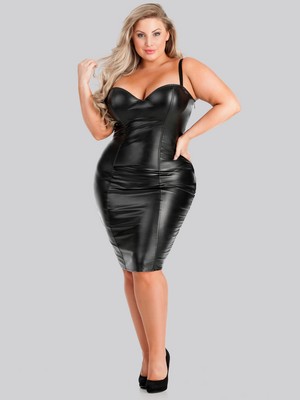 Not every inch of your lingerie has to be shiny to get that fetish fatale look. Many of our wet-look pieces feature a cocktail of different fabrics, such as mesh and lace, which are also very common in day-to-day underwear and allow you to explore the world of PVC, latex, and Datex without going over-the-top.
They also make for some very flattering panelling, which, through fancy eye-trickery, can help to create different proportions.
Slinky, slimming, and sleek, the Fierce Leather-Look Bodycon Dress is ideal for combining PVC detailing with everyday style. It's so versatile, it could even be worn for a night out (if you're brave enough!)
5. Choose Your Level of Shine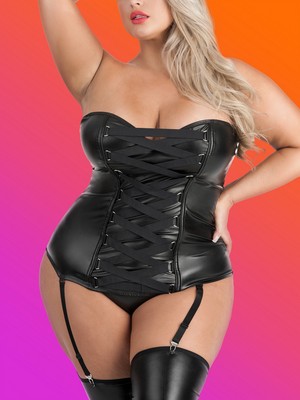 Wet look doesn't have to mean shinier-than-the-bonnet-of-a-Ferrari. There are different materials that give you different levels of gloss, depending on what effect you're going for and what you're comfortable with.
Faux leather items (like the Lovehoney Fierce Leather-Look Basque) are best for those of you who prefer a slightly more subdued gleam. They're perfect for understated fetish appeal and a more matte finish.
PVC, latex, and Datex (which is a cross-over of the two) have a much higher gloss factor, although latex will need polishing with a latex shiner or polish to keep it gleaming wear after wear. PVC is generally cheaper, and better for occasional wear, but latex, although more expensive, is more durable and really sculpts your body for a phenomenal shape.
6. Be Confident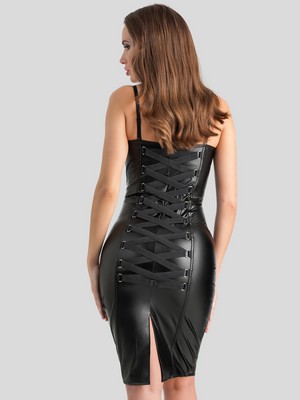 Hopefully, if you've followed all the other steps, you'll have found a piece of lingerie that suits your shape and needs, and makes you feel fantastic.
As we're told time and time again, the most important part of feeling sexy is feeling confident - and if you look great, you'll feel great too! Plus, confidence allows you to relax and enjoy yourself, and after all, isn't that the aim of the game?