How to Masturbate: The Ultimate Guide to Going Solo
As you can probably guess, Lovehoney is pretty pro-masturbation. When it comes to things to get behind (and on top of, and underneath) masturbation is high on our list.
But you don't have to supply the world with top-notch sex toys to love jacking it. Tonnes of people love to love themselves. And why not? Rubbing one out has a host of wonderful benefits.
However, not everyone masturbates. In fact, the number may be much lower than you think. A study by the University of Chicago found that only 61% of men and 38% of women have masturbated in the past year.
Perhaps these people are embarrassed to admit it, or perhaps they still believe some of the bizarre myths about masturbation.
After all, it wasn't so long ago that people believed a cheeky solo-session would cause acne, insanity and even the dreaded hairy palms.
But, let's put those ridiculous rumours to bed right now. Masturbation has endless advantages; not only is it great for mental well-being, but it has surprising health benefits.
While masturbation comes (hehe) naturally to some, for others it's not always plain sailing. That's why we've created this blog. No matter if you've never masturbated before, or are simply looking for a few tips to mix it up, we'll break it down for you, step by step.
Is Masturbation Good For You?
Where do we begin?
As we've already said, having some alone time now and then has been proven to support good mental health. This is due to the happy chemicals, like endorphins, dopamine and oxytocin, that the brain releases when you orgasm.
Furthermore a menage-a-moi is a perfect sleep aid, due to the release of prolactin and serotonin. These chemicals are linked to feelings of relaxation and happiness.
Masturbation doesn't just benefit mental wellbeing, but physical wellbeing too. In fact, masturbation has been linked to pain management. In fact, knocking one out can ease aches and pains caused by menstruation.
But it's not just vulva-owners who benefit; research has shown that regularly yanking the crank can lead to better prostate health.
The figures really are amazing. One study showed that ejaculating 21 times a month could reduce your risk of prostate cancer by 33%.
---
How Masturbation Enhances Your Relationship
Because we're all different, with wildly contrasting sexual tastes, expecting your partner to know instinctively how you like to be touched can result in disappointment.
Masturbating regularly is a fantastic way to learn what you like in bed. Taking the time to explore your body when you're alone helps you to find out what feels best for you. Then, when show time rolls around, you can guide your partner's touch, helping them to bring you to orgasm.
Studies have even revealed that those who masturbate often are 10% more confident in bed.
Being able to satisfy your partner, or make them feel so good they have an orgasm is a fantastic bonding experience for a relationship. So give your partner some help and do some homework.
---
How to Keep it Discreet
Let's get this ultra-clear. Masturbation is nothing to be ashamed of. Period.
However, it's a pretty private experience (no one wants to sit next to the guy jacking it on the bus). Before you start DJ-ing your own disco, make like Tiffany and be sure you're alone. Choose a time when you're not going to get disturbed and you can really relax. When everyone else is sleeping is a great time for some discreet fun.
Get nice and comfortable. While a lot of people like to masturbate in bed, others prefer to do it in the shower or bath - the lock on the door definitely comes in handy. However, it really doesn't matter where you are, just as long as you feel relaxed and comfortable.
Warm Up, Before You Get Down
There's no rush, so don't feel like you need to head straight for your dangly bits. Try warming up your external erogenous zones by gently running your fingertips along your body. Softly caressing your neck, inner thighs and nipples are great ways to get your motor running.
When you're feeling aroused, start to stroke your genitals. We really recommend lubricant here; not only does it enhance the sensation, it also makes masturbation much easier.
If you have a penis, try gently stroking up and down your shaft. When you're good and hard, take your penis in your hand and move it up and down. Don't forget about your balls, either. You can try gently cupping them, or ever-so-carefully tugging them for added pleasure.
For vulva-owners, first try using a couple of lubed-up fingers to stroke your external areas. To stimulate your clitoris gently trace around it in gentle circles. Once you've got the hang of it, try applying a little more pressure, or moving your hand slightly faster.
Another great way to stimulate your clitoris is to kneel and place a pillow in between your legs. Here you can rub yourself against the pillow, thrusting up and down to control the rhythm and speed.
You can also try adding internal stimulation to your solo session. Try inserting a finger or two inside your vagina, while rubbing your clitoris at the same time.
---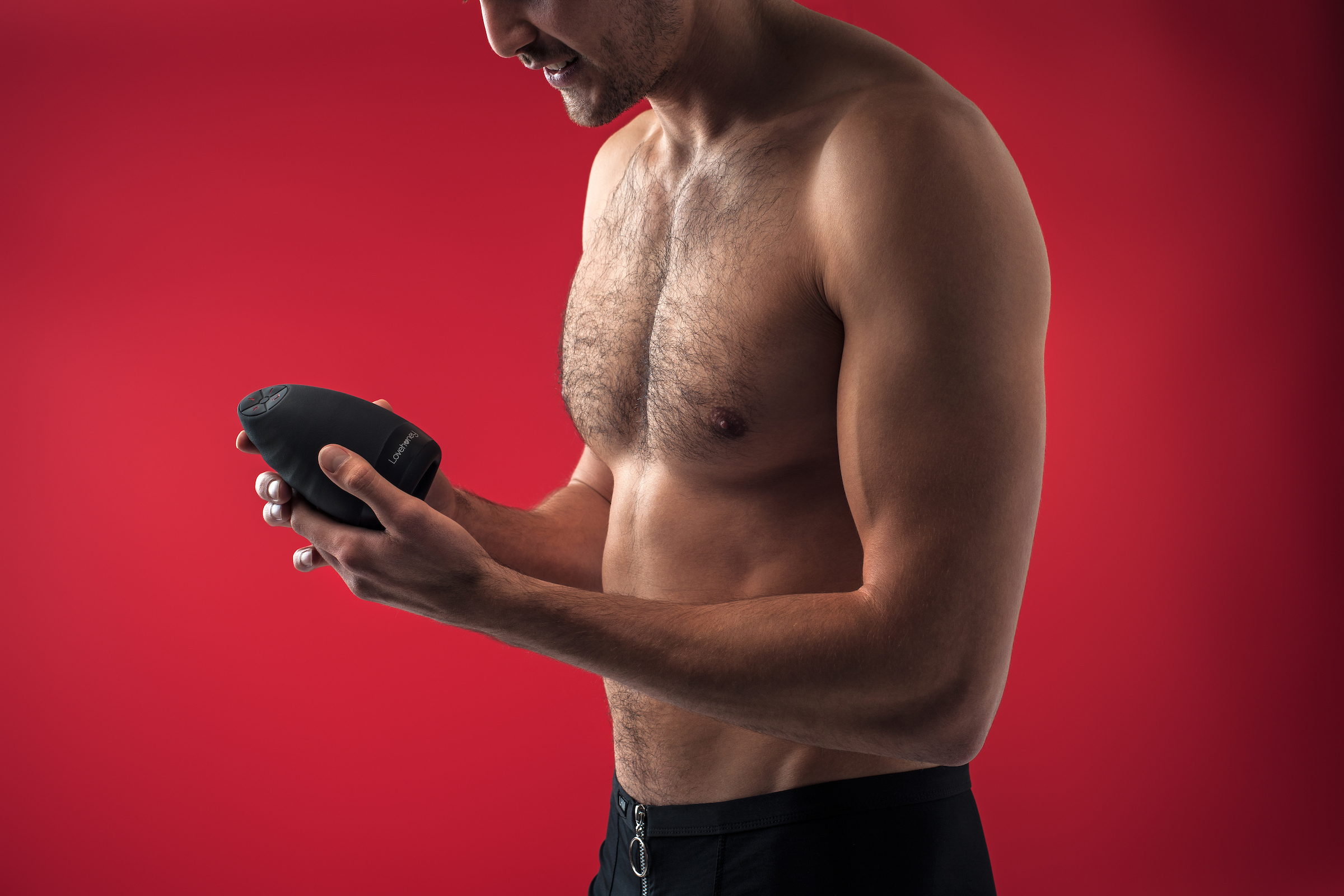 Masturbating With Sex Toys
While hand-play is the perfect place to start with masturbation, finger stimulation alone can sometimes use a helping hand - pun intended. This where sex toys come in.
We sell a really wide range of sex toys at Lovehoney, however for beginners we recommend starting small and simple.
Bullets are petite vibrators that are designed to stimulate your external hotspots. They're also incredibly lightweight and discreet, (and perfect for keeping out of sight.)
When you feel comfortable with your mini vibe, you could graduate to a slimline rabbit vibrator. These ingenious inventions stimulate your clitoris, all while giving you lovely internal penetration. Check out our Slim Happy Rabbit.
Strokers are the perfect treat for penises. We sell all sorts, but for first-time users we suggest starting with a simple one, like our Reversible Double Stroker with Intense Ticklers.
When you're a stroker pro, you could even start incorporating a slimline butt plug into the fun. Check out our Basic Slimline Butt Plug, it's easy to insert and perfect for those just getting started.
It's important to use objects specifically designed as sex toys. Otherwise, you could hurt yourself - things can break, be too big, or in the case of some objects if used anally, can get lost inside you.
---
Best Positions for Masturbation
There's no right or wrong way to masturbate. Discovering what you do and don't like can take time, so be patient with yourself. However, if things really aren't gelling, try switching up your position.
It's incredible what a slight shuffle of the hips can do for your pleasure.
Try adding a few of these popular positions to your rub-love repertoire:
---
The Lotus Flower
Lay down on your back and get comfy.
Open your legs wide and gently start to stroke and explore yourself with one hand.
Add a little splash of lube and use two fingers to gently draw circles around your clitoris.
For even more stimulation, add a vibrator on your clitoris, using your fingers inside.
---
The Hand Solo
Lie back, so your head and neck are supported. Try lying on a pile of pillows, making sure you're good and comfy
Open your legs wide and take hold of your penis. Stroke along your erection, building up speed as you go.
---
Goddess Grind
Lie on your belly, with your head to the side. Slide your hand underneath your hips. You can gently prop your hips up with a cushion for comfort.
Grind your hips into your hand, gently rubbing your clitoris against your palm.
You could add a few fingers as you grind, or even invite a dildo into the fun.
---
Side Into My DMs
Lie on your side with your arms stretched wide to anchor you.
Reach around your back and begin to stroke your butt and slide a finger into your sweet spot.
Then, using your free hand, begin to stroke your penis or clitoris, all the while massaging your backdoor.
To really turn up the volume, try adding a butt plug and a vibrator
Remember when experimenting with anal play, a little splash of anal-safe lube goes a long way.
---
Treat Yourself
Who said you have to use one sex toy at a time?
To really step your solo-play-sessions up a gear, add a vibrator onto your clitoris. Then, cover a butt plug in anal-safe lube and insert
Stimulating two erogenous zones at the same time is the perfect way to strengthen your orgasms.
---
How to Masturbate Your Way
As you can see, there are plenty of reasons to give masturbation a try, from better health, to feeling more connected to your partner.
But when it boils down to it, the number one reason to indulge in a little solo-play, is it feels pretty-damn-lovely. And you know what? We all deserve to feel good.
How to Make Female Masturbation 500% Better