Womanizer + Lovehoney = Pro40 Pleasure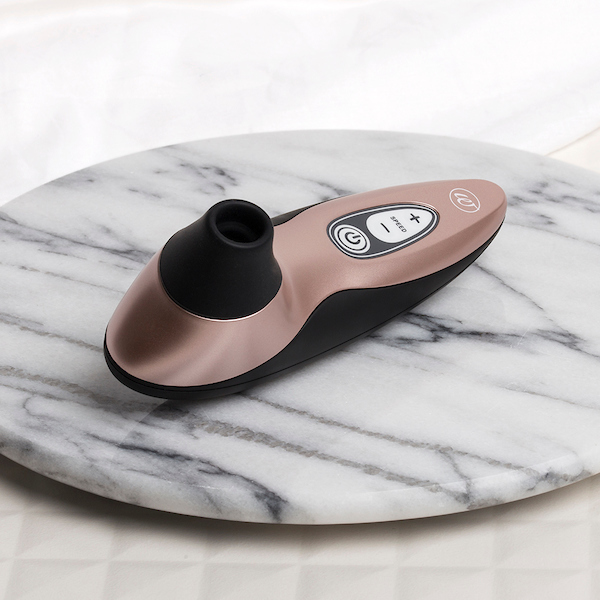 You know Womanizer, the creators of incredible clitoral stimulators powered by scintillating Pleasure Air Technology.
You know Lovehoney, the sexual happiness people.
Now, you can know the breathtaking power of their combined pleasure-peddling prowess with an exclusive sex toy collaboration: the classic Womanizer Pro40, newly resurrected with a beautiful, sleek, black and rose gold colourway.
We went through review after rave review for the original Pro40 and it's clearly a beloved classic toy that earned a coveted place in many toy boxes. So we've brought it back to offer its lavishly good loving to a new generation of erotic ecstasy afficionados.
The exclusive Womanizer X Lovehoney Pro40 is totally waterproof, USB rechargeable, and offers endless pleasure and toe-curling climaxes at the touch of a button. Give yourself the gift of glorious orgasms today.
---
What makes it so great?
If you haven't yet experienced the bliss of Womanizer's Pleasure Air Technology, the Womanizer X Lovehoney Pro40 is a fantastic place to start.
Pleasure Air Technology is a clever bit of patented technology that stimulates the clitoris without even touching it. Instead, the head of the toy encircles the clitoris and surrounds it with air pulses that flutter against your sensitive nerve endings to send you spiralling towards rapture.
Wondering if the Womanizer X Lovehoney Pro40 could work for you? Take a look at what Lovehoney customers have had to say about it and its predecessors – the Pro40 offers something for everyone!
---
Are you hoping for unparalleled bliss?
Explore buildable sensations, from soft flutters to intense pulses

What you say:

I'm only on my third night but so impressed with this that I'm not convinced I plan an evening without it so far! Go on, spoil yourself, it is so worth the price!

- Little1

The variety of settings are perfect for slow build-up or fast orgasms if you need them. The ease with which you can move up and down between the settings makes it easy to tease and edge yourself, or rocket yourself to the finish.
---
Are you a power queen?
Discover 6 powerful intensity levels

What you say:

I tend to use vibrators in their higher level, even powerful ones, as We-Vibe Tango, but with this toy, I start in level 3 and end in level 4 or 5.

- Sole

This is by no means like any orgasm I've experienced, and in all my years I've never had a toy that I couldn't reach max intensity on but still have it deliver incredible orgasms only at halfway.
---
Do you want to include your partner?
Revel in simple, shareable controls

What you say:

I can honestly say after 17 years I have never seen her have an orgasm at that level. It was off the scale. I asked her after out of 10, what was it? 20! Not only was it the strongest but also longest. Considering it came from a non-foreplay position, wow.

She then suggested using it on me, dubious. But she placed it on my penis head at the sweet spot on the bottom side and after a few minutes, a volcano erupted.

- Bigtrak

My boyfriend LOVES to use this on me as he can control what speed it is! It is also great for doggy style you get it on your clit, but he gets some vibrations through his balls!!
---
Do you struggle to orgasm?
Savour delicious, non-numbing sensations

What you say:

I'm on an anti-depressant, it makes it very hard for me to orgasm. I can't have an orgasm with my hands and even have trouble with vibrators. Before getting my Womanizer, I hadn't had an orgasm in about a year and a half. This toy changed that.

When I orgasm with it, it's always several in a row, and they're more powerful than the orgasms I've had with vibrators.

- sadie4

I find it difficult to come during PiV sex and I was drawn to the fact that this doesn't actually need to touch my clit, which can make me sore after a long time.

The pleasure is very concentrated and intense. It took me a minute or two to get used to it then I was away! The orgasms I get from it are so intense I can feel them in my lower back, bum cheeks, thighs.
---
Are you looking to inject more arousal into your life?
Relish effortless orgasms, anywhere

What you say:

We both knew we had stumbled across a miracle toy when we put it to the real test. One night she was really tired and no way in the mood for anything. She said let's give it a try and within 5 minutes she was loving it.

We couldn't believe it, but time and time again without fail this toy makes it happen with ease. The best part is she doesn't feel sore or numb after its use.

Shower time will also never be the same again. I was so happy to take this into a naughty shower session with me. It is a little bit louder and fiddly, but it more than makes up for itself with the jelly leg orgasms it gives me.
---
Should I buy it?
On top of all the sweet gratification it provides, the Pro40 is made from luxurious body-safe materials, completely waterproof, and USB rechargeable. It's a discreet, travel-ready toy perfect for adding additional satisfaction to solo sessions, foreplay, or sex, and it's also lightweight and easy to use. Plus? It's absolutely beautiful to look at.
We think pleasure this universal is worth its weight in gold, but the Womanizer X Lovehoney Exclusive Pro40 is available for just [[productprice:productid=40834]]. Do your clit a favour and buy yours today.
---
You may also like