Beginner's Guide - What is Rimming and How to Give a Rim Job
Rimming can be intensely pleasurable and many people find anal stimulation a real game-changer, but why? And how do you do it? Let's find out.
What is Rimming?
"What is rimming" and "what is a rim job" are two very common questions we get at Lovehoney. To kick things off, the terms rimming and rim job are different ways of describing the same thing and basically, they are the backdoor besties of giving head.
Like cunnilingus and fellatio, rimming – which is also known as analingus, anal play, or anal stimulation – is the act of using your mouth, tongue, and lips to stimulate your partner's anus. Lots of couples enjoy rimming during foreplay, or as an intimate accompaniment to oral sex.
Video: How to Give a Rim Job
Want to know how to perform analingus on your partner? Lovehoney's handy video has all the top tips you need to give a pleasurable rim job.
Why does anal stimulation feel good?
Analingus feels good because the anus has so many sensitive nerve-endings, which means rimming can be incredibly pleasurable and this isn't even the best part. What makes analingus so great is everyone has an anus and can enjoy the absolute sensation which is anal stimulation whether you are a penis-owner or a vulva-owner.
Who is a rim job best suited for?
In the words of J.Lo: "absolutely everybody!" Anyone with an anus has the potential to enjoy rimming.
The act of analingus is exactly the same for both genders and all sexual orientations – the only difference is the other parts of the body you can incorporate while rimming (more on that later). Other than those key features (so to speak), everything from the safety, to the lube is broadly the same when considering analingus for whatever you have between your legs
Is rimming safe?
With the proper preparation, yes, rimming is safe but due to where the anus is and what comes out of it, this area can hold more bacteria than other parts of the body, and a rim job can increase the chance of you coming into contact with this bacteria.
But don't worry – by following some basic hygiene precautions before and during rimming, you can enjoy safe and satisfying anal play.
Here are three safety steps to take before you perform or receive analingus:
Make sure the anus is clean
The reasons behind this one don't need to be explained. Give the anus a wash with unscented soap and warm water, or for a more intensive clean, use an anal douche to get squeaky-clean for the rim job or any other kind of anal play. The Tracey Cox Supersex Flexible Tip Anal Douche is one of our most popular anal douches.
If you usually like to tame or get rid of body hair before sex, you might want to try shaving your anus for anal rimming too – you might not think you have a lot of hair there, but you'd be surprised! Remember, what you choose to do with your body hair is your personal choice so only remove the hair if YOU want to.
Use a dental dam
If you (or your partner) aren't comfortable with such intimate licking, why not try a dental dam? These nifty shields are made from protective, stretchy material, are often flavoured and act as a thin barrier between your tongue and your partner. As well as protecting you from STIs they can also prevent harmful bacteria entering your system if you want to stick the tongue inside the anus as opposed to around it (although we'd recommend sticking to the latter).
Avoid vaginal oral sex
On that note, it's also really important to remember the anus can hold some bacteria which isn't vagina-friendly. So, in the same way you wouldn't have vaginal sex after the penis being in/around the anus, you shouldn't give vaginal oral sex after rimming.
Should I use lube for rimming?
You don't have to use lube, but adding lube into any sexual activity – not just rimming – is always recommended to enhance the experience.
Flavoured lube lends itself particularly well to analingus – especially if it's the first time. If you think you'll be progressing from anal rimming onto penetration with your tongue, fingers, toys, or penis then start with a long-lasting lubricant which you won't need to reapply as often.
If you're going to be trying anal penetration, just make sure to choose a lubricant which is specifically for anal play (they're thicker with more 'cushioning') and check it's compatible with any toys or condoms you may be using.
How to initiate rimming
When it comes to rimming, communication is key. Obviously, not everyone is in a relationship where they can sit down over dinner and discuss analingus in detail. However, communication can be just as powerful when it's non-verbal. Use body language to tell your partner what you do and don't enjoy.
If you want to receive rimming, then respond positively to all activity in this area, or gently lean into your partner as they give you oral sex. Now, we're not advising you to shove your butt in your partner's face, but a subtle movement here or there will give them the message you're happy for them to make their way further south.
If you'd like to give your partner some oral action in that department, start by paying them a little more attention around the anus and gauge their response. Moans and leaning into your touch are good, moving away or directing your attention elsewhere might signal they're not up for anal play.
That being said, the best course of action is always to seek consent. Using your tongue and lips, make your way closer and closer to the anus, licking around their thighs, buttocks and perineum. You can take cues on how they are physically reacting to your stimulation but asking them if they like it and what else they would like you to do to them can be hot as hell especially when it is sprinkled in with some dirty talk.
What rimming techniques are there?
If you're going to try rimming, it helps to know what to do with your tongue as well as how to pleasure your partner in other ways.
Of course, there's no right or wrong way – it really depends on what is enjoyable for your partner. Again, the best way to find out is to go ahead and ask them "do you like that?"
Here are some tongue techniques for anal rimming as well as some other parts of the body you incorporate during analingus to give you some ideas.
---
1. Up and down
Gently move your tongue up and down along the anus with a flat tongue or flick the tip with the same movement in quick motions and vice versa.
---
2. Side to side
Move your tongue in lateral motions across the anus, either quickly or slowly.
---
3. Full circle rotations
Move your tongue around the anus in clockwise motions and then go the other way in anti-clockwise motions. You can also try tiny circles at the tip or big circles around the wider anus area.
---
4. Semicircle
Try licking one side of the anus in a half-circle shape and then do the same on the other side.
---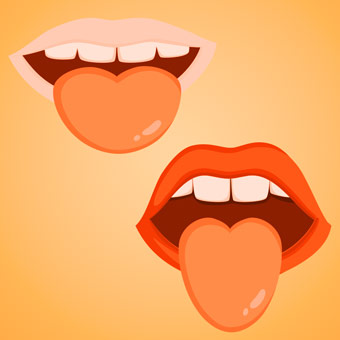 5. Flat and pointed
Alternate between a flat, wide tongue for gentle strokes, and a stiff, pointed tip for pinpoint precision.
---
Mix it up
If you're exploring anal rimming, try alternating these tongue movements, applying different pressures and speeds to see which your partner prefers. Some people love repetitive movements, while others prefer a variation, so keep this in mind when you're experimenting.
Ask your receiver to signal when they enjoy something, this could be saying 'yes' or 'no' or giving a pleasure scale from 1-10. You can also look out for clues yourself such as noises, gasps, and movements.
As well as tongue movements, there are also a bunch of other techniques which incorporate the genitals and other parts of the body, intensifying the exhilaration.
Playing the rusty trombone
Rimming is sometimes referred to as 'playing the rusty trombone', which is when the person who is giving the anus oral attention also reaches around to the penis and makes rapid stroking movements up and down the shaft. The mouth-to-butt coupled with arm actions resembles someone playing a certain brass instrument.
Using your breath
Gently blowing hot and cold air onto the anus can intensify the sensations and heighten nerve endings. Alternate licks and blows for incredible pleasure.
Explore the rest of their body
The more you focus on the anus, the more aroused and sensitive to touch your partner will become, so a touch here and a stroke there can really boost those tingly feelings. Here are some other parts of the body you can involve while performing analingus:
The inner thigh: the inside of the leg, from the anus to the knee can be very sensitive. Try gently stroking or tickling this area up and down in long motions.
The butt: give the butt cheeks a little squeeze, or if your partner prefers something harder and you're in a position to do so, try light spanking.
For vulva-owners: try tickling or massaging the clitoris, fingering the vagina or stroking and pinching the nipples.
If you still want more from anal rimming, teaming it with a vibrator or a stroker gives an incredible addition to your partner's pleasure. With so much intense stimulation going on, using toys can create mind-blowing blended orgasms. Try using a small bullet vibrator to tease the area around the anus, or even using a butt plug to get your partner used to the sensation of anal stimulation.
Rimming Sex Toys
Who said you can't enjoy a cheeky solo rim job? Rimming sex toys exist and yes, they are epic. b-Vibe makes a vibrating butt plug which simulates the sensation of anal rimming so you can experience it while alone and when you're having oral or penetrative sex.
Take your time
Put your partner at ease and try to make sure they are completely relaxed and fully aroused. All anal play is easier if your partner is already hugely turned on, so get them half way there before you try your hand (or mouth) at rimming. People with a vulva often find anal play easier and more comfortable once they've already had one orgasm. Take things nice and slow and don't be afraid to tell your partner if you'd like it to be firmer, softer or to stop altogether. Most of all, take your time and enjoy.
The Best Sex Toys for Rimming
More Sexual Happiness Advice
You can never know enough about sex, right? Why not join us on our sexploration journey? Stay up to date with the latest advice on our blog, the Lovehoney forum and the weekly Sexual Happiness podcast.