How to Make Your Penis Bigger (Using Sex Toys)
Size certainly isn't everything, but if you want to experiment with a bigger penis, sex toys could be your answer.
There are lots of reasons people want to increase their penis size: some want their member to look bigger, while others feel a fuller erection would benefit their partner.
Whatever your reason, we have a range of products and recommendations to suit you. From pocket-friendly quick-fix options to longer-term penis enlargement investments, you'll find lots of options here.
This guide goes through the A-Z of penis enlargement, from the humble cock ring to the high-tech collection of Bathmate penis pumps and even natural male enhancement solutions. But remember, when all's said and done, penis size is not all that matters!
Video: How to Make Your Erection Bigger
Watch our resident sexperts Jess Wilde and Annabelle Knight give you some tips and tricks on how to get a bigger penis using sex toys.
How can I make my penis bigger?
There are lots of ways to maximize the size of your penis. Some are almost instantaneous, whereas others require time, patience and a few tools for the job. You can also combine solutions to achieve desired length and girth.
While the solutions we review below can't permanently change your natural size, they can help your erections to be as firm and full as possible or, in the case of penis extenders, allow you to temporarily slip on a few extra inches. However, ensure you buy from a reputable company and follow product instructions to avoid any potential mishaps or injuries.
Cock Rings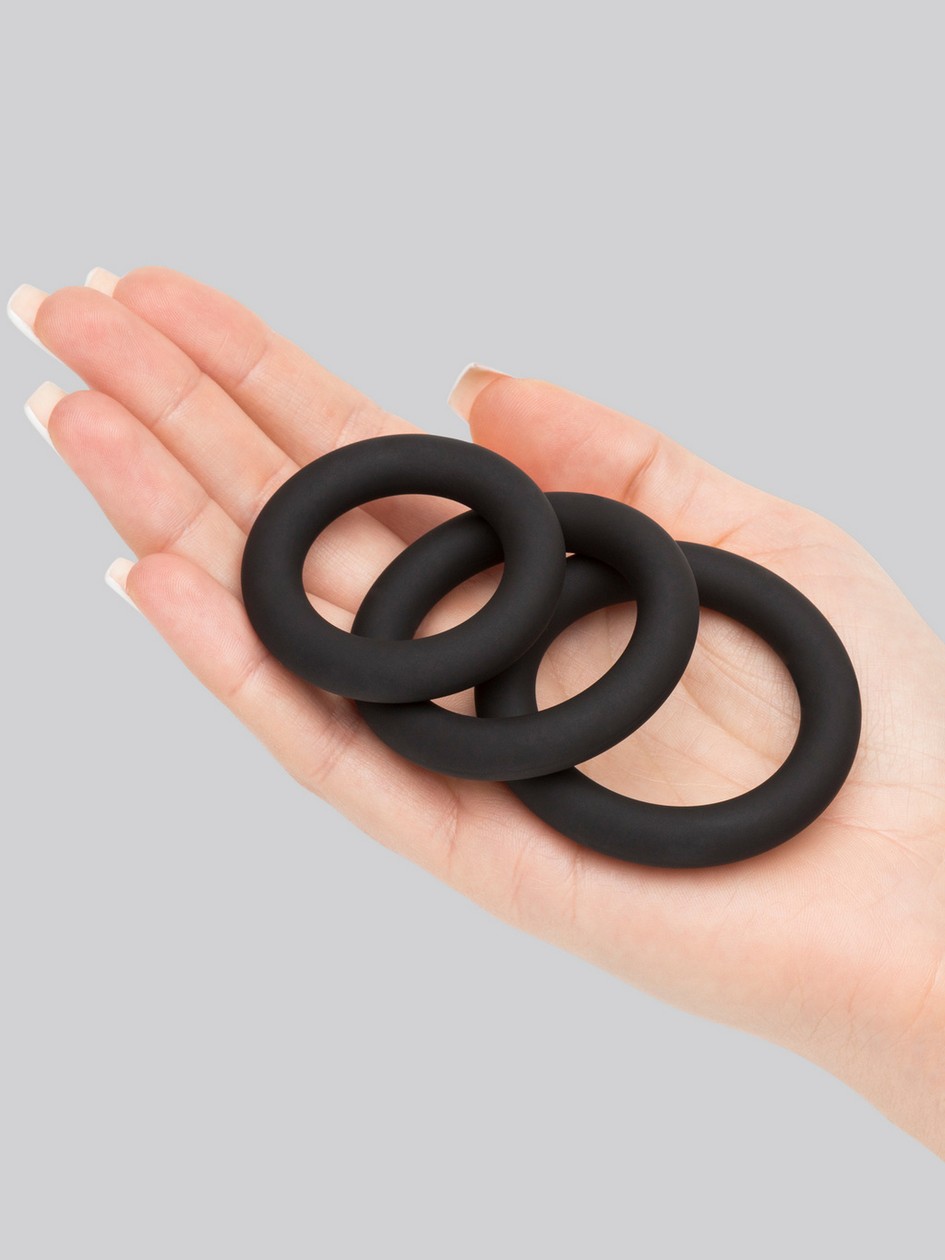 Cock rings (also known as "penis rings" and "love rings") are designed to sit at the base of the penis to restrict blood flow. They don't necessarily make your penis bigger but they do give the illusion of being larger thanks to the build up of fluid. Restricting blood flow can delay ejaculation, letting you last longer during masturbation or sex, and can also result in a firmer, larger erection. Your partner feels the benefits of this additional stimulation, while you can enjoy a longer, more intense climax.
The Lovehoney Bionic Bullet Vibrating Rabbit Cock Ring is one of our most popular penis rings because it not only restricts blood flow for a rock-hard erection, but transmits powerful vibrations through smooth silicone for heightened pleasure during sex or during masturbation. You can also try a set like Get Hard Extra Thick Silicone Cock Ring Set to find the size that best suits you.
Lovehoney customers say...
"The rings are durable and really do help you to maintain your erection for longer." - Dan the man
Penis Pumps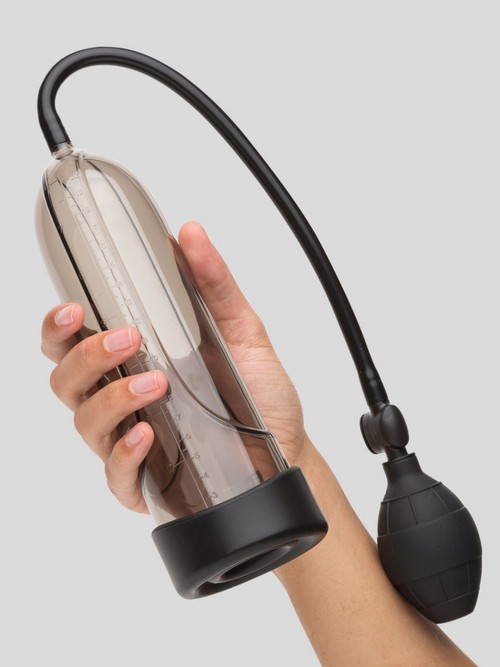 Penis pumps are designed to instantly enhance the size of your penis by increasing blood flow. When the airtight cylinder is placed over the shaft, the suction will increase and encourage blood flow. The tissue then expands, giving you a longer, thicker penis. They also produce a firm, reliable erection without the need for pills or supplements.
With regular use, penis pumps can have a longer-term impact on your size. Just remember to keep using your pump if you want to maintain any results you may see.
If you're interested in trying a penis pump, we recommend the Tracey Cox EDGE Ultimate Performance Stamina Penis Pump. This affordable option is a great choice for those who want to experience the benefits of a pump for the first time.
Safety Tip: Because this toy influences blood flow, it's important to not wear your pump for longer than 20 minutes at a time to minimize any risks and keep you safe.
Penis Extenders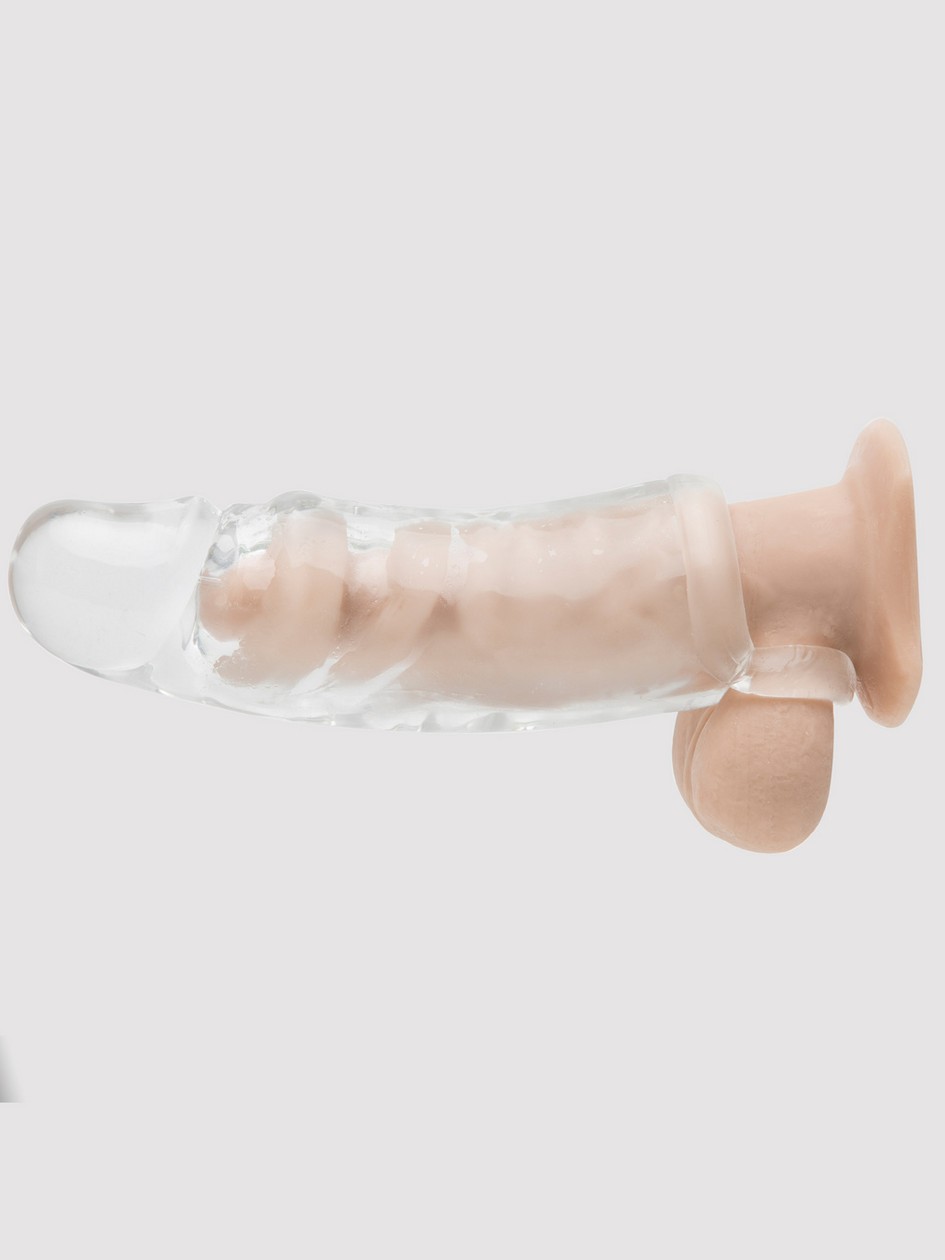 Penis extenders are perfect for adding instant length, girth and texture to make your penis bigger. Some are smooth inside, while others have ribs and nubs for extra stimulation. Penis extenders are also great for those who want to alleviate the symptoms of premature ejaculation or erectile dysfunction because the extender stays rigid, despite the size or firmness of your penis inside.
Some extenders are textured, like the Lovehoney Mega Mighty 3 Extra Inches Penis Extender with Ball Loop, while others are more realistic looking. Some are even adjustable, and can be tailored to fit most penis sizes, like the Lovehoney Perfect Partner Unisex Hollow Strap-On. Many are compatible with strap-on harnesses, and some are open-ended for enhancing girth, but not length.
Lovehoney customers say...
"The orgasms we both had from using this were unreal!" - Foxy16
Penis Sleeves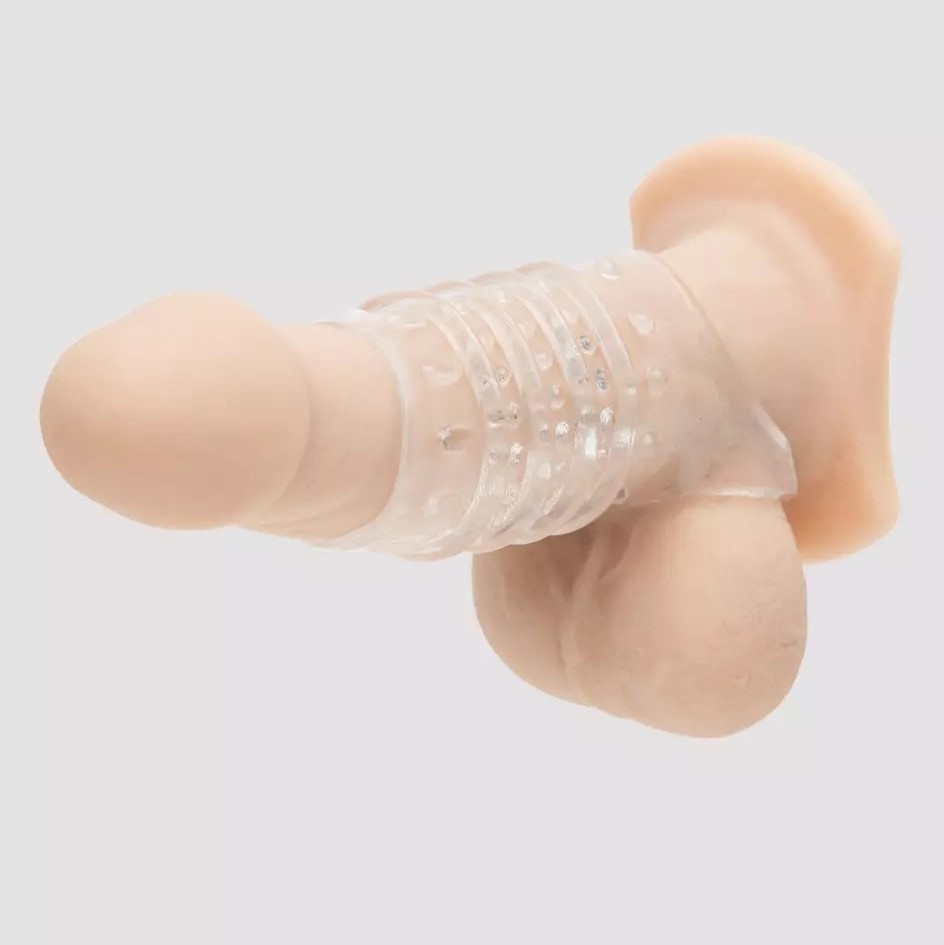 If you're wondering how to make your penis bigger but you don't necessarily want it to be much longer, a penis sleeve might be just the thing for it. You don't need to go to the gym to get those girthy gainz, all you need is one of these partner-pleasing darlings. Increase the girth of your cock with a variety of different sizes, designs and textures to give your penis – and sex life – a real boost. While this does seemingly make your dick bigger, it also provides textures externally for the wearer and internally for the receiver. Bigger cock or not, these toys are the real deal when it comes to pleasure and unique stimulation.
If you want to add some good vibrations to your penetration, the Lovehoney Ignite 20 Function Vibrating Penis Sleeve makes for incredible stimulation for everyone. If you'd like to increase penis size just slightly and focus on what different textures can feel like for you and your partner, the Lovehoney Bumpy Ride Textured Penis Sleeve with Ball Loop or the Stretchy Textured Extra Girth Penis Sleeves might be just the toys for you.
Lovehoney customers say...
"Oh yes! Hits the spot" - Janet.B
Male Edge Systems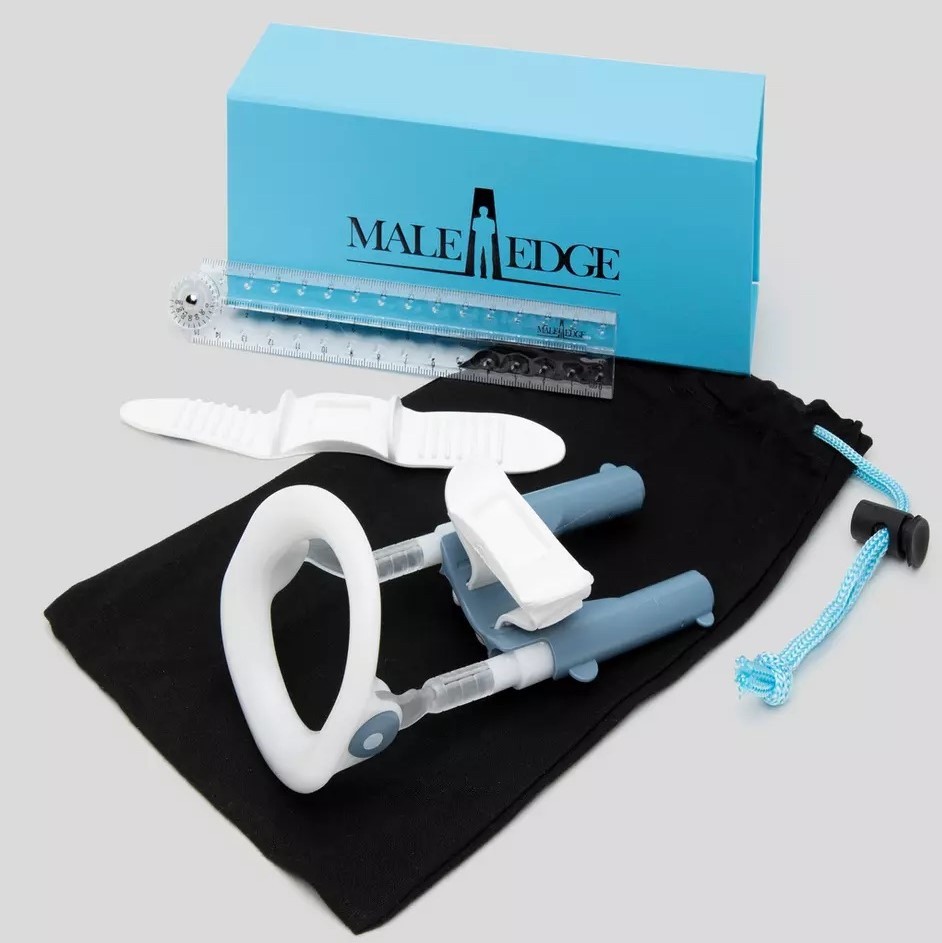 Grow your penis with this natural, non-surgical method from the Male Edge System. Forget pills or surgery, the Male Edge System offers a unique training programme that you can adjust to your needs.
This world-leading penis enlargement brand makes systems which make it possible to permanently increase penis size. With regular use, it is said to make the average penis size grow up to 29% in length and 19% in girth and is a clinically proven system which doesn't require any surgery.
Begin with the basics with the Male Edge Basic Beginner's Penis Enlargement System before moving on to intermediate and advanced ways to give you a bigger dick.
Lovehoney customers say...
"Great product! I've been using this product for about 3 months. I've noticed an increase in both the length and girth of my penis. It's very simple to use." - Luke
Male enhancement toys
Perhaps your partner fancies trying out different types of stimulation during vaginal or anal sex. Maybe you suffer from erectile dysfunction and want assistance pleasing your partner in the bedroom. Maybe you're a trans man looking to enhance your body. Maybe you just want to know what it feels like to have a larger-than-average penis size.
Exploring how to make your penis bigger can be a lot of fun and will help you to discover loads of ways to enhance your penis and your pleasure.
These are all great reasons to look into male enhancement toys.
Strap-Ons and Harnesses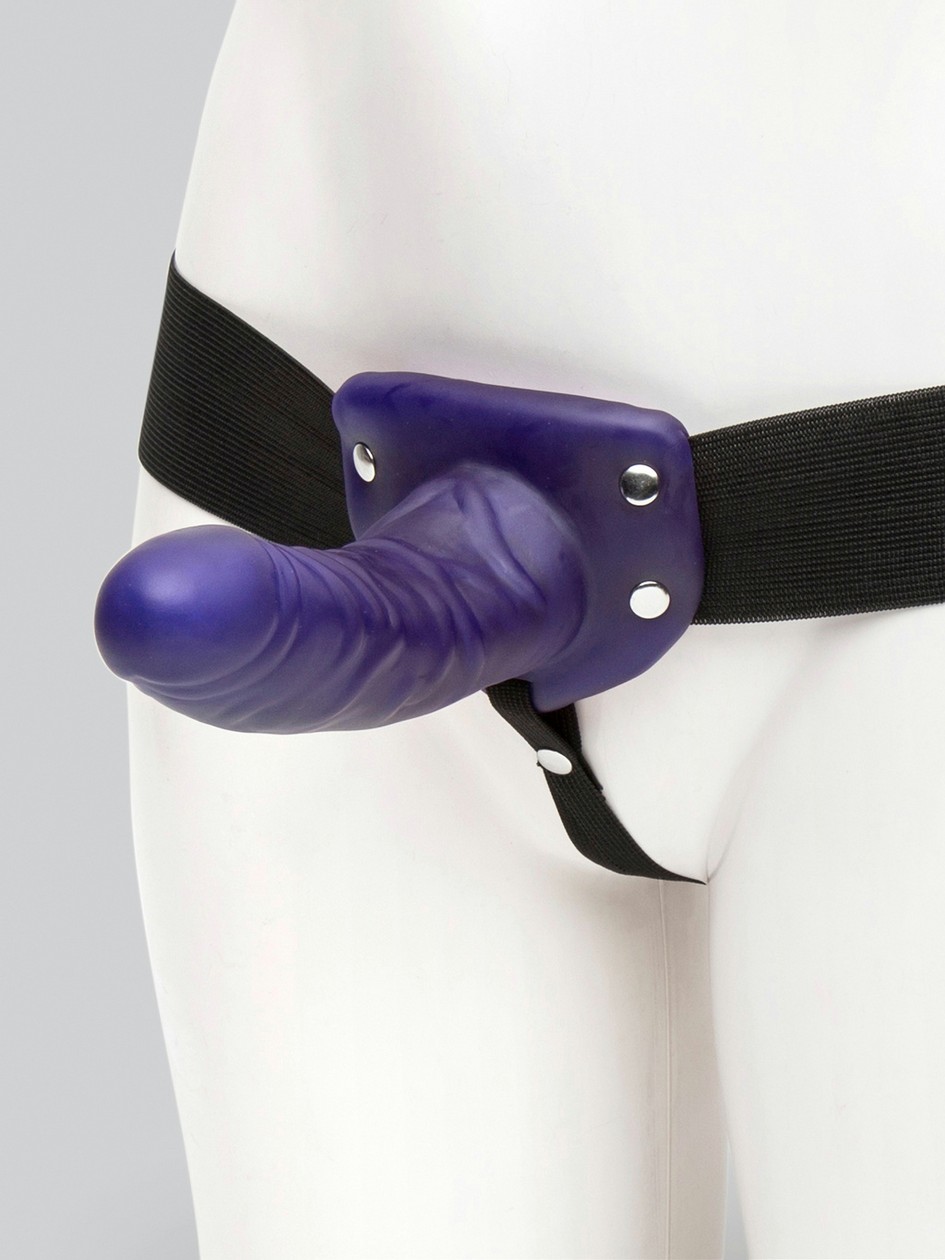 How to make your dick bigger? Add a bigger dick!
Strap-ons are some of the most versatile toys out there. The term "strap-on" can refer to a harness and dildo kit, a strapless strap-on or sometimes dildos with a built-in elastic strap.
Some strap-ons are hollow with space for your penis, while others are designed for penis-free wear. They do much more than add a few extra inches to get a bigger cock: many include powerful vibrators, whilst others boast multiple shafts for double penetration play.
Hollow strap-ons are also suitable for user hoping to delay ejaculation or those with erectile dysfunction – a great option is the Lovehoney Perfect Partner Vibrating Hollow Strap-On which has a vibrator to boot!
Lovehoney customers say...
"What a strap-on! I've got erection problem and I'm also disabled. This strap-on is perfect, me and my wife both loved it, I would recommend this to everyone." - Perrytank69
Large Dildos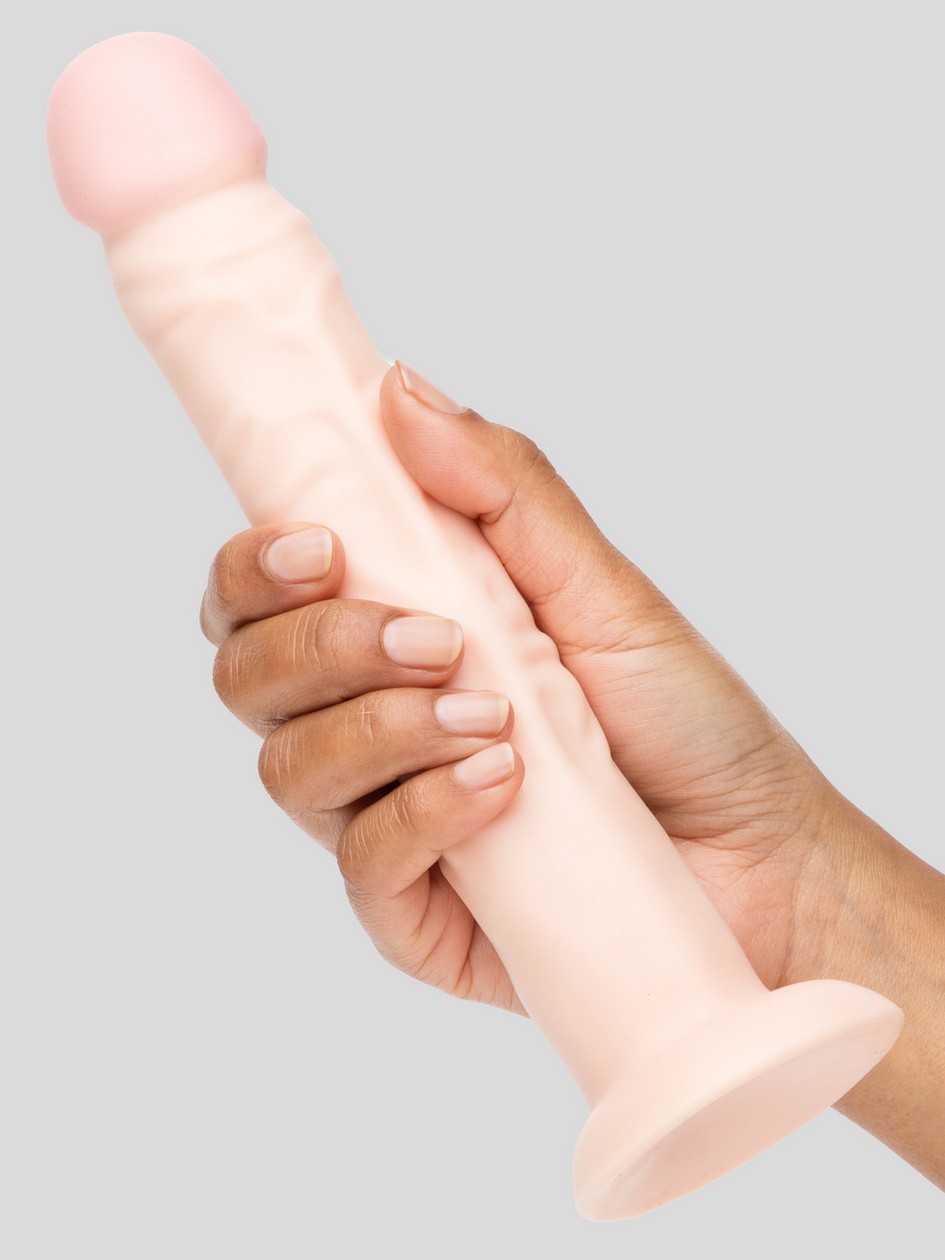 If your partner wants to experience the full-up feeling of a large penis or something larger than what is the average penis size, then you can try opting for a large dildo, like the Lifelike Lover Basic Realistic Suction Cup Dildo 10 Inch. Dildos come in a huge range of styles, colors and sizes, so there should be something to suit every taste.
For those who really want to feel the girth, there are plenty of extra large dildos to choose from, including inflatable dildos for anyone wanting to experiment with different levels of stimulation. Why not try the Cock Locker Inflatable Monster Sculpted Dildo 11 Inch on for size?
Lovehoney customers say...
"Hits the spot, my favourite toy. I could use this again and again." - WLC06
Packing Dildos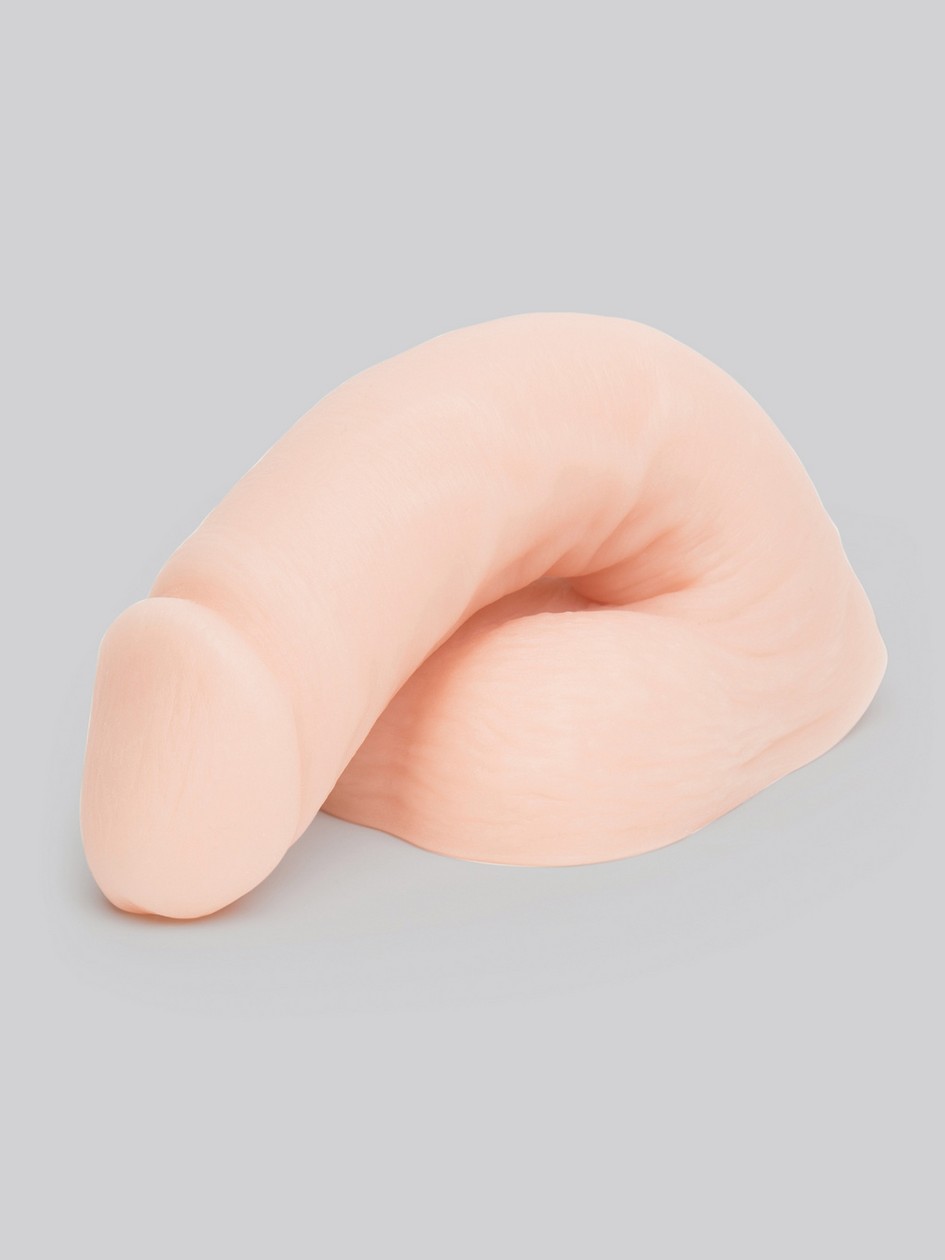 Acquire an instant bulge with a squishy packing penis. Pop one in your pants and wear under clothes to create or boost the appearance of your package.
Packers are also great for trans men and FTM crossdressers who want an authentic looking temporary appendage. We offer soft packing dildos in multiple sizes for anyone looking to impress.
For flexible pack-and-play fun with a partner, try out the Blush Super-Flexible Realistic Dildo.
Lovehoney customers say...
"It's super fun to squish and even better to wear. I even added piercings on to mine!" - Beaubear
How can I be better in bed?
One of the best ways to improve your performance in bed is not to make your penis bigger, but to feel confident, and one of the best ways to increase your confidence is by having clear, open communication with your partner.
To address issues like premature ejaculation, high penis sensitivity, or erectile dysfunction, check out some of our solutions below.
Delay Spray & Cream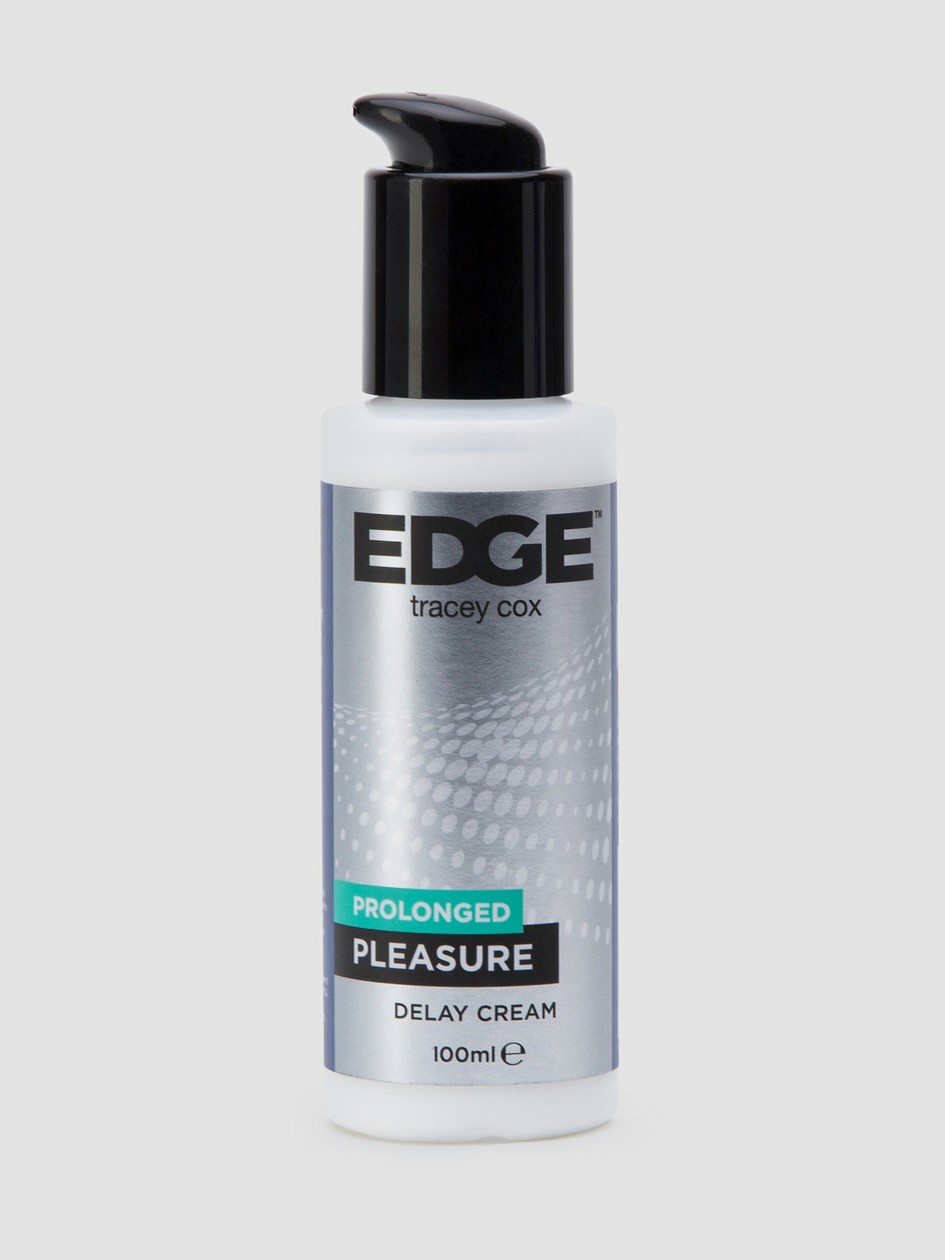 Delay sprays and creams often use ingredients like benzocaine to temporarily numb the penis, making it less sensitive and ultimately helping to delay ejaculation. Just be sure to read the label, follow the instructions, and discontinue use if any irritation occurs.
Some delaying agents come as sprays, like the EXS Endurance Delay Spray, which should be spritzed on the head and shaft of the penis. Others come as cream, like the Tracey Cox EDGE Delay Cream and should be rubbed into the penis before getting started.
For safer sex along with the benefits of numbing, why not pick up delay condoms instead?
Lovehoney customers say...
"I last over 20 mins before I came! You get a slight tingly feeling and numb to the touch, but you still get all the pleasure." - Vampiror
Safety first: before using delay sprays and creams, it bears repeating to read all of the manufacturer's instructions carefully to avoid using too much, as well as potential transfer to your partner's body. Also, check the ingredients to avoid potential allergens and do a small skin test first to ensure it works for your body.
Natural Male Enhancement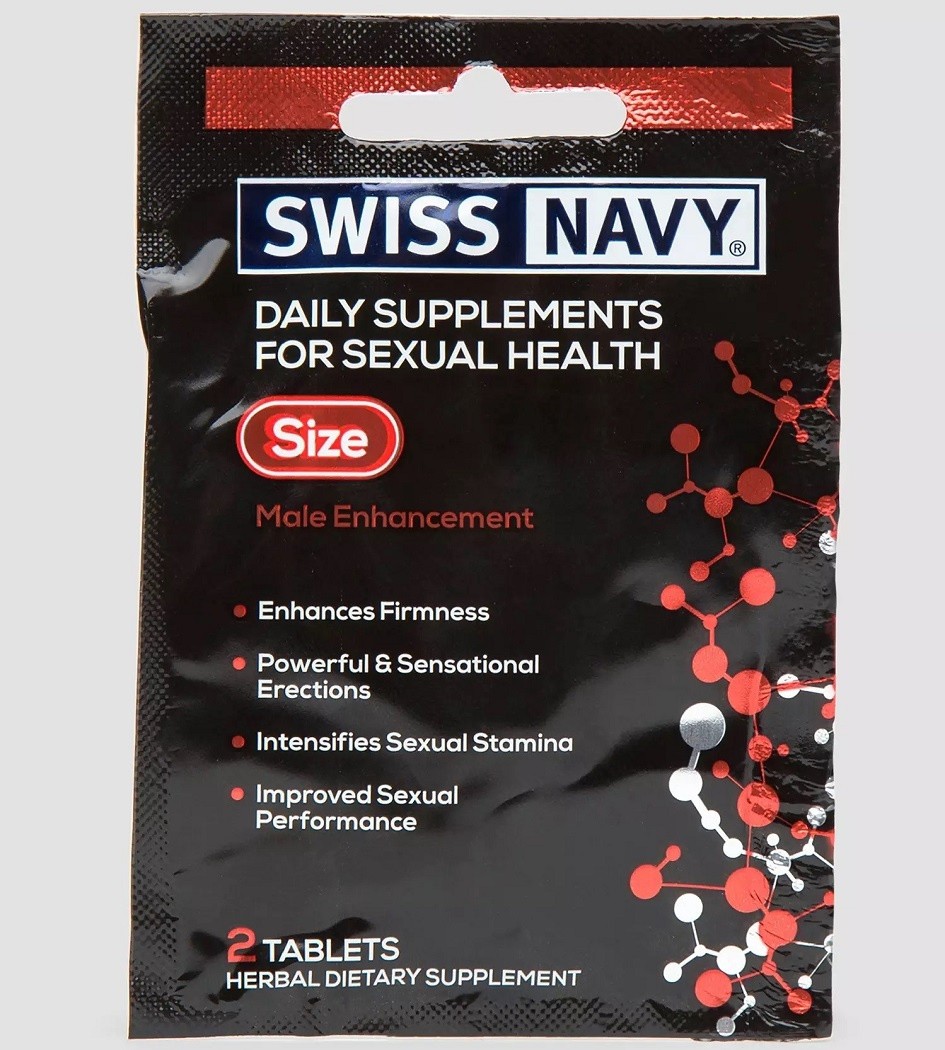 Various pills and potions for male sexual enhancement exist containing natural ingredients such as L-Arginine, Ginseng, and Horny Goat Weed, which may potentially give you a harder erection. For example, clinical studies have shown that Ginseng and L-Arginine can be beneficial for men for dealing with erectile dysfunction.
Check out our range of supplements or other supplements to see if they might help you.
Lovehoney customers say...
"It definitely made me get a much harder boner much easier, and the effects lasted a few days. You still only get one when aroused, though, so it's not a constant erection in case you're worried." - MichaelG
Safety first: whenever purchasing natural male enhancement products, make sure to buy from a reputable company so that you know what you're getting, read the warning labels, and check the ingredients to avoid allergies and potential medication interactions. It's always a good idea to check with your healthcare provider first.
Best Penis Enlargement Toys