The Incredible History of the Wand Vibrator
Ever gazed at your favourite vibrator and wondered what generous genius dreamt up its shape and amazing orgasm-giving powers?
Where would we be without our favourite setting, the speed we know will skyrocket us to orgasm, and the toy we keep on standby by our bedside?
From its very basic beginnings in Joseph Granville's doctor's surgery, to the flashy, bells-and-whistles varieties we now know and love, no sex toy has a more colourful history than the wand vibrator.
We've delved into our X-rated history book to bring you the edited highlights. Enjoy!
---
Hysterical Women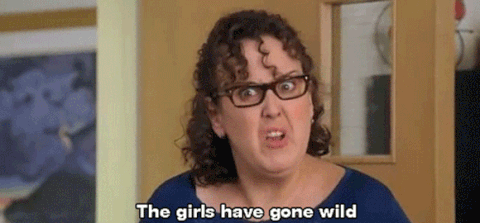 I'd be lost without my trusty vibrator – hysterical, even (it's the Mantric Wand, and you're welcome).
In fact, hysteria is the reason vibrators first zip-zapped into the world in the first place.
In the 1800s, doctors diagnosed women experiencing irritability, anxiety, insomnia and even fluid retention (basically anything that couldn't be easily explained) as having a condition called hysteria (Greek for uterus).
This hysteria was thought to be down to subconscious sexual frustration, and doctors prescribed manual stimulation of the clitoris, and 'hysterical paroxysm' as a cure.
Women returned for repeat treatments (well, duh) so Dr. Joseph Mortimer Granville designed the very first (albeit very clunky) vibrating massager in 1881. Cheers, doc.
---
Hitachi's Personal Massager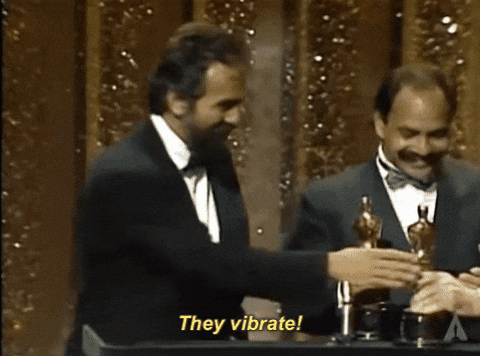 Fastforward to the late '60s, and a Japanese electrical company perfected the Wand, an electrical vibrating massager designed to relieve stress and muscle tension.
With its lengthy, grippable handle, smooth, cylindrical head, flexible neck and strong vibrations, the extra benefits of the Wand were abundantly clear.
It wasn't long before the Wand became known as a sexual device, but Hitachi held fast to their wholesome marketing campaign.
They even whipped up a macho version of the wand for post-workout rubdowns, with an athletic-looking man on the packaging.
---
Betty Dodson's Masturbation Masterclass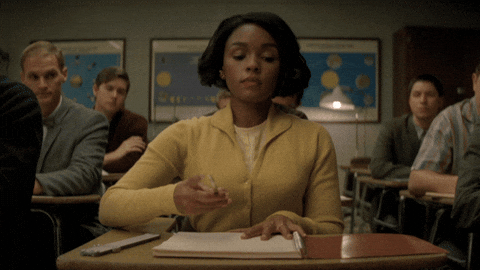 With the sexual revolution in full swing, one woman was determined to share the real benefits of the Wand.
Betty Dodson became active in the sex-positive movement in the late '60s, and in the '70s she started running Bodysex Workshops in her New York apartment.
The classes were very hands on, and the idea was simple – empower women by sending them on their way with plenty of self pleasure techniques to try at home.
Dodson bought Hitachi's wands by the caseload from the electrical section of Macy's, using them in her classes and recommending them in her book, Liberating Masturbation.
---
Samantha's Neck Massager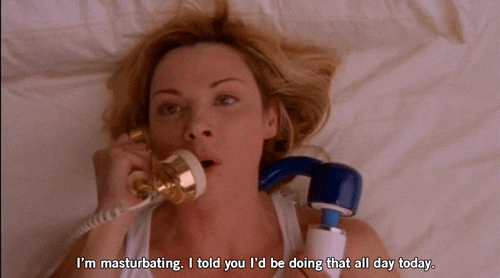 In 1999, Hitachi issued a statement asserting that the Wand's only use was for health care, but the sexy seed had been sown.
In 2002, Wands soared in popularity after Sex and the City's Samantha sashayed into an electrical store with a broken massager, closely resembling the Wand.
Despite the shop assistant's insistence that they don't sell vibrators, Samantha ends up schooling the rest of the shoppers about the various 'massagers' on sale:
"That one will burn your clit off. Even with ski pants."
---
"This Is A Wand, Baby, It Vibrates"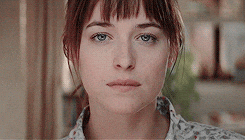 These days, wand vibrators pop up in porn, films and books – even Christian Grey, the hero of E L James' Fifty Shades erotic trilogy, has one in his special drawer.
Speaking of our favourite billionaire, it stands to reason that the Emmeline Pleasure Wand by opulent sex toy brand, Coco de Mer, was the toy that producers chose for one particularly pivotal scene in Fifty Shades Freed.
With silken silicone, smooth contours and a spectrum of speeds to set your body aflame, you might adopt a lip-biting habit, too.
---
What a Wand-erful World
There are dozens of wand vibrators on offer at Lovehoney, from the sensationally powerful Deluxe Mains Powered Wand, to the blissfully soft and sensual curves of the Desire Wand Vibrator and petite proportions of the Tracey Cox Supersex 10 Function Silicone Wand.
We also stock wand attachments to transform your toy into a male stroker, G-spot stimulator or rabbit vibrator
Want to welcome a wand into your life, but not sure which one? You'll find all you need to know in our handy guide.
---
You may also like: