9 Ways to Make a Male Orgasm AMAZING
While they may not have 12 different types of orgasm to explore, there are still plenty of ways men can turbocharge their orgasm for a mind-blowingly good jizz fest.
Although women might not hesitate to invest in a sex toy to improve their orgasms, men don't always offer themselves the same courtesy, and many aren't comfortable sharing tips to enhance their orgasms.
Read on for how to help yourself, or the man in your life, to have incredible, super-charged orgasms with a few tips, tricks and tweaks to their routine.
---
1. Put a (cock) ring on it
Cock rings are one of the simplest and best sex aids around. Their benefits are (at least) threefold: they can help you last longer, can enhance your pleasure and can be specifically designed for enhancing your partner's pleasure. Cock rings work by preventing blood from flowing back down the penis which can help erections to feel harder and last longer. In turn, this makes your enjoyment last longer for a more explosive orgasm.
Cock rings are hugely popular with couples thanks to the multitude of styles designed to stimulate your partner's sweetest spots at the same time.
Start simple:
Try using a slide-to-fit adjustable ring designed for optimising staying power, like the Fifty Shades of Grey Again and Again Adjustable Cock Ring. Completely adjustable and easy to use, it's a perfect beginner's option.
For enhanced pleasure:
The Lovehoney Bionic Bullet 5 Function Vibrating Cock Ring is crafted from silken silicone, with 2 textured rings and a textured, vibrating sleeve to stimulate the clitoris. With 2 powerful speeds and 3 patterns of vibration, you can also remove the bullet and enjoy pinpoint stimulation for both partners.
---
2. The Perineum: Your secret pleasure spot
The perineum (also known as the taint or gooch) is a patch of skin packed with powerful nerve endings located between the balls and the anus. Stimulating this little powerhouse during play or sex will result in one hell of an amped-up orgasm. Try using a finger or knuckle to massage it, or turn your pleasure up several notches with a cleverly designed sex toy.
Turbo charge it:
Use a finger vibrator like the Fifty Shades of Grey Touching Finger ring with its tantalising vibrations that will add extra stimulation to the area.
Alternatively, try something like the Screaming O Slingo Silicone Cock Ring with Massage Ball to enjoy powerful hands-free perineum stimulation during sex or solo play.
---
3. Delayed Gratification: Make it worth the wait
Good things come to those who wait, and GREAT things come to those who edge. 'Edging' is the technique of delaying your orgasm before you're about to climax. Doing this 2 or 3 times in a row has been proven to result in a much more powerful orgasm when you do eventually let go. Some men may not find this easy to do on first go, so a great way to practise this technique is with a male masturbator.
Masturbators comes in a huge variety of styles, with a number of different functions, from hollow tubes to body-cast vaginas. Designed to stimulate the penis to the point of orgasm, the male masturbator is to a man's bedside drawer what the rabbit vibrator is to a woman's.
Male masturbators are filled with widely varying textures with lumps, bumps, waves, ridges, nodules and tendrils designed to provide intensely pleasurable sensations when stroked over the penis.
By using a masturbator you are likely to enjoy a more pleasurable solo experience as well as increased intensity and duration when you reach climax.
What to try for stamina training:
Tracey Cox EDGE Cup Stamina Stroker has a gloriously textured, super soft sleeve, hidden within the sturdy-yet-lightweight cup, allowing you to enjoy the sensations of stamina training.
What to try for solo pleasure:
Try a THRUST handheld masturbator. These realistic toys have tight, deeply textured canals designed to thrill every inch of your manhood.
---
4. The prostate: The male G-spot
Most men have heard of a woman's G-spot, but fewer will know that they have an incredible equivalent. The P-spot, or prostate, is a super-sensitive gland which produces the majority of seminal fluid and plays a big part in a man's sexual function.
Many men can achieve powerful P-spot orgasms without any external stimulation at all, while others find that prostate play is an enhancement to their usual penile stimulation. Whether you're going for the prostate-only orgasm or blended orgasmic bliss, stimulating the prostate is bound to give you an extraordinarily amped-up orgasm.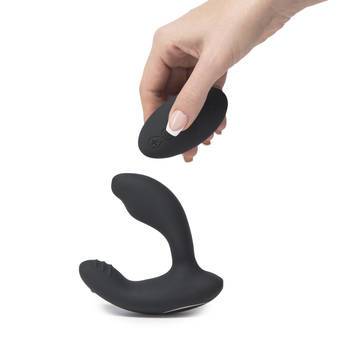 For beginner's prostate stimulation:
Try using, or asking your partner to use, a finger to find the walnut-shaped gland situated a few inches up inside the anal canal. Use an anal lube like Lovehoney Discover Water-Based Anal Lubricant to ensure maximum comfort and sensation.
For more intense stimulation:
Try a specifically designed option like the Desire Prostate Massager. Crafted from silken silicone and perfectly angled for P-spot stimulation, this toy has the incredible added benefit of 8 modes and 12 speeds of vibration to take your pleasure soaring to new heights.
Plus, all can be controlled from a wireless remote for hands-free fun. Pass it to your partner and let them take charge.
---
5. Touch your testicles
Four important words to live by: Don't neglect the balls. These wrinkly little sacs might not look like much, but they need attention too if you want an explosive male orgasm. The balls naturally rise when men are close to orgasm so pushing gently on them will heighten arousal and result in more intense climaxes.
Conversely, something like a cock and ball ring will prevent the testicles from moving about too much and add some gentle-to-medium constriction depending on the style, which can result in increased blood flood and sensitivity.
A ballsy move:
Try asking your partner to play with your balls during oral or penetrative sex to add extra sensations to your orgasm. Or, try something like the Tracey Cox Stamina Ring to add gentle constriction for a ball-gasmic boost.
---
6. Appeal to your senses
A surefire way to enhance one sensation is to remove another. Try something like a blindfold during sex or solo play to enhance the sensations of the male orgasm. Whether it's being blindfolded while your partner gives you delicious oral, or takes control on top, your orgasm will feel stronger and more intense thanks to the thrill of sensory deprivation.
Amp it up:
Try something like the Lovehoney Satin Blindfold for no-fuss fun. Ideal for beginners, its satin and faux-fur material mixes sensuality and practicality for easy and exciting wear.
Or amp things up further with the addition of wrist restraints, like in this Bondage Boutique Temptation Soft Bondage Kit, to enhance excitement and arousal for a real wow-gasm.
---
7. Penis pump your way to pleasure
Penis pumps are best known for their ability to potentially increase the length and girth of the penis by creating a vacuum that draws blood to the shaft. However what isn't as well known is that the penis pump is also a great sensitising device that can increase your sexual pleasure post-use.
Once you're done pumping or stretching, you'll feel the effect of all of that extra blood flow with the nerve endings in the penis particularly excited and receptive.
Penis pumps and enlargers make the penis more sensitive to touch than usual and so improve sexual response and the quality of your orgasm.
Pump up your pleasure:
Start off with a pump like the Lovehoney Pumped Up 7 Function Vibrating Penis Pump which has a non-anatomical opening for unintimidating pumping, and an additional bullet with 3 speeds and 4 patterns of vibration for pleasurable solo play.
The automatic pump offers 3 intense levels of suction for an incredibly pleasurable penis workout.
---
8. Pills and potions
It has been widely recognised that the greater the volume of semen released during ejaculation, the more powerful the orgasm. If you're looking for a bigger load, there are some supplements formulated to help you achieve just that.
What to try:
Yummy Cum Drops can generate a greater volume of ejaculate, which many men have found to provide greater orgasmic pleasure.
---
9. The pelvic floor
Pelvic floor exercises aren't just for women. Research has suggested that exercising the male pelvic floor can strengthen men's orgasms. Practise contracting the muscles by lifting your penis up and down. Do 3 sets of 10 repetitions every day and you should start to see some improvement.
---
We hope these tips help give you your best orgasm yet. If you've got any more, comment below. We'd love to hear what works for you!
Want to find out more?
---