11 Orgasmic Ways to Supercharge Your Sex Life With a Massage Wand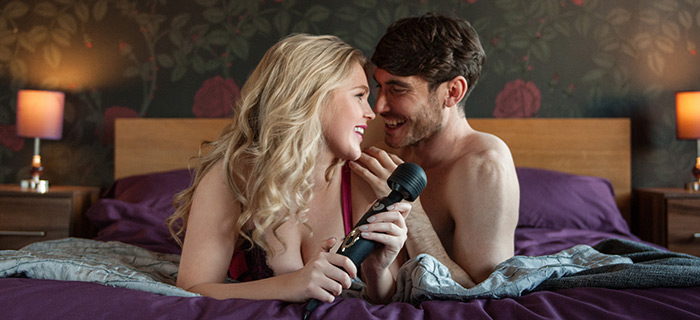 If you've not yet got your hands on a wand, there's time! Head on over to our top 10 guide to find out which wand is best for you.
If you are the proud owner of a powerful massage wand, congratulations. We're sure you've powered it up and played with all the settings, but do you know how to use it to its full potential?
We've put together a handy guide to help you soar to orgasmic heights with your toy, time after time.
---
1. Always use with lube
Lube, glorious lube... It's no secret that we love the slippery stuff.
A generous squeeze of lube on the head of your wand seriously enhances sensations, so grab a bottle of our Enjoy Water-Based Lubricant and glide your way to orgasm.
What Lovehoney customers say:
"It seems to take forever to run out as you don't need a lot because it lasts so well. Not at all sticky, just a great all rounder and a great essential." - Kel-96
---
2. Release some tension
Turn your wand to its lowest setting and gently stroke it over your shoulders and back in a slow, circular motion for a sublime, deep tissue massage that might just lead to other things.
Aaaand, relax.
What Lovehoney customers say:
"It works as a full body massager, which is really nice after a hard day at the gym. It makes all those tense and sore muscles better, and makes my body very relaxed." - LilMissMardyBum
---
3. Start slowly
Plug-in wands can pack a hefty punch when it comes to vibrations.
If it's the first time you've used one, start on the lower settings and, once you're used to them, build your way up to the bigger thrills.
What Lovehoney customers say:
"If this is your first vibrator, in my experience you have to get used to vibrations. They had some kind of learning curve for me, and whenever I try a new toy with different kind of vibrations (buzzier or rumblier) I need to take some time to get used to "use" them to orgasm." - Sole
---
4. Elevate tie and tease play
Use your wand as part of your foreplay, trailing it over sensitive spots to work yourselves into a frenzy.
Add a blindfold or handcuffs to the mix and take turns to tease one another with the vibrations.
What Lovehoney customers say:
"We use it for massages and throughout foreplay. Not only does it feel amazing on every part of the female body, my husband seemed to enjoy it around his balls... it's very easy to keep edging your self or your partner making hours worth of fun and enjoyment!" - kinkysum
---
5. Experiment with materials
For a gentle, nuzzling buzz, reduce your wand's intensity by using it over underwear or bedsheets.
Experiment – silk, satin and cotton will all offer different sensations.
What Lovehoney customers say:
"I'd say if you're finding the vibes overwhelming, try using it over your clothes until you get more used to it. At first I found it almost painful to put directly on my clitoris, so I use it all around that area instead (it's actually really good rubbed against your vagina, the vibes travel all the way inside you)!" - Boogaloo
---
6. Add an attachment
Turn your wand into a G-spot-pleasuring toy or vibrating penis stroker by adding a special attachment.
Take a look at our comprehensive guide for tips on choosing the right accessories for your massage wand.
What Lovehoney customers say:
"If you've ever wished your wand could be just as powerful but more pinpointed towards your g-spot, your clitoris or indeed both at the same time, this attachment could be your dream come true." - Lovebirds_x
---
7. Go hands-free
Go hands-free by sliding the handle of your wand between a pillow and pillow case, angling it so that it hits the right spots.
Or, try a position enhancer like the Liberator BonBon Toy Mount, which has slots for different toys.
What Lovehoney customers say:
"No more squat balancing doing vigorous circular movements with my arms in an effort to stay upright whilst lining everything up. The BonBon makes masturbating a whole lot easier." - Couple looking to spice things up
---
8. Explore other areas
Use the wand on your thighs, stomach and mons venus rather than directly on your intimate areas.
The wand will transmit vibrations throughout the entire area, giving you a slow-building, intense orgasm.
What Lovehoney customers say:
"Press (the wand) firmly against your mons Venus, away from your vulva, and feel the vibes all the way through to your vagina and G-spot!" - GentleGiant
---
9. Use it on him
A wand feels great on the shaft of the penis – add plenty of lube and slide it gently up and down the length.
For delicate areas like the balls and frenulum, you might prefer a less powerful setting, a mini wand or an attachment.
What Lovehoney customers say:
"We used the wand in a rubbing motion, on the frenulum (bottom side of the head) and it gets me erect within seconds and within 2 minutes I cum hard." - horny-youngcouple, 23M, 31F
---
10. Make sex even better
Whether you're getting it on missionary style or bending yourself into pretzel-like positions, your wand's ergonomic shape makes it easy to add to your play.
Use it to stimulate your clitoris when you're in spoons or, if you're in a female-female couple, hold it between you to share the vibes.
What Lovehoney customers say:
"My partner loves our wand (we have the Doxy, it is superb) as when I'm holding it against my clit he can feel the vibrations inside me and if we go slow then it does fun stuff to his balls and bit of shaft when its outside my body." - Spoonerism
---
11. Take it on holiday
Your plug-in wand may not leave much room in your suitcase for flipflops and suncream, so get yourself a mini battery-powered or USB-rechargeable wand you can use anywhere in the world.
The Tracey Cox Supersex 10 Function Silicone Wand, Lovehoney 8 Function Mini Magic Wand and the Lovehoney USB Rechargeable Mini Magic Wand are all powerful and portable, while the Mantric USB Rechargeable Wand Vibrator has a travel lock, so no blush-inducing buzzes when you're going through passport control.
What Lovehoney customers say:
"Was surprised how light in weight it is. It's very compact and would be easy to slip in your handbag and take on weekends away." - Robbieswife
---
Magic Wand Vibrator Guides
---
Check out our Magic Wands vlog
Above: Learn about the many different ways to use a wand vibrator with Sammi Cole.