How to Use a Suction Cup Dildo
Free up your hands and embark on mini adventures around your house and beyond with a suction cup dildo. A far cry from a one-trick pony, suction cup dildos can be used in many different ways, locations and scenarios, and come in all shapes, sizes and types.
Vibrating, extra long, extra thick, realistic and with more than one member to enjoy - put your hands together for the ever-versatile and eclectic suction cup dildo.
Now, when it comes to using your suction cup dildo, you could take a 'suck it and see' approach and we're sure you'll do just fine. But why not let our experts and community members give you the low-down on the many ways in which you can use a suction cup dildo? The list is endless but we've narrowed it down to the absolute best tips and tricks. Here goes:
---
Positions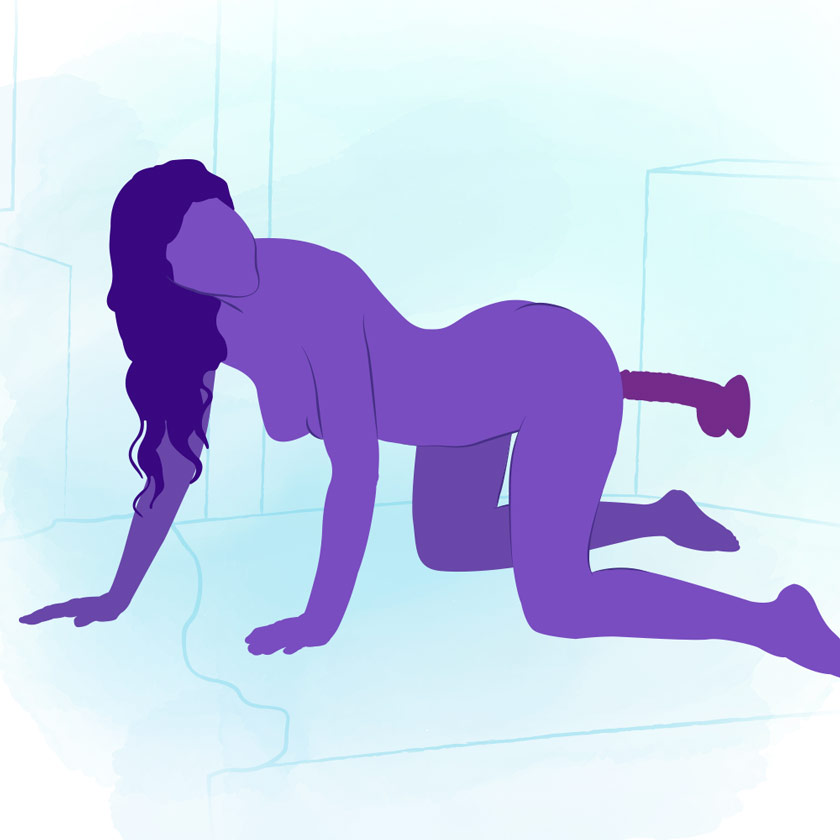 Imagine being able to test out a whole host of positions whenever the mood takes you? One of the best things about suction cup dildos is that they can be adapted to suit a multitude of sex positions.
Doggy-style is a favourite with fans of suction cup toys - simply attach it to a wall or headboard and back onto it. Tailor the height to your liking and control the angle, depth and speed at which you enjoy your dildo.
Quite the workout for your leg muscles (who said exercise was boring?), try sticking your suction dildo to a horizontal flat surface and squat or sit on it, before bouncing your way to that special place.
What's fantastic about suction cup dildos is that your hands are free to add to your pleasure! Stimulate your clitoris with your fingers or bullet vibrator for double the sensations.
---
Go Stick It To...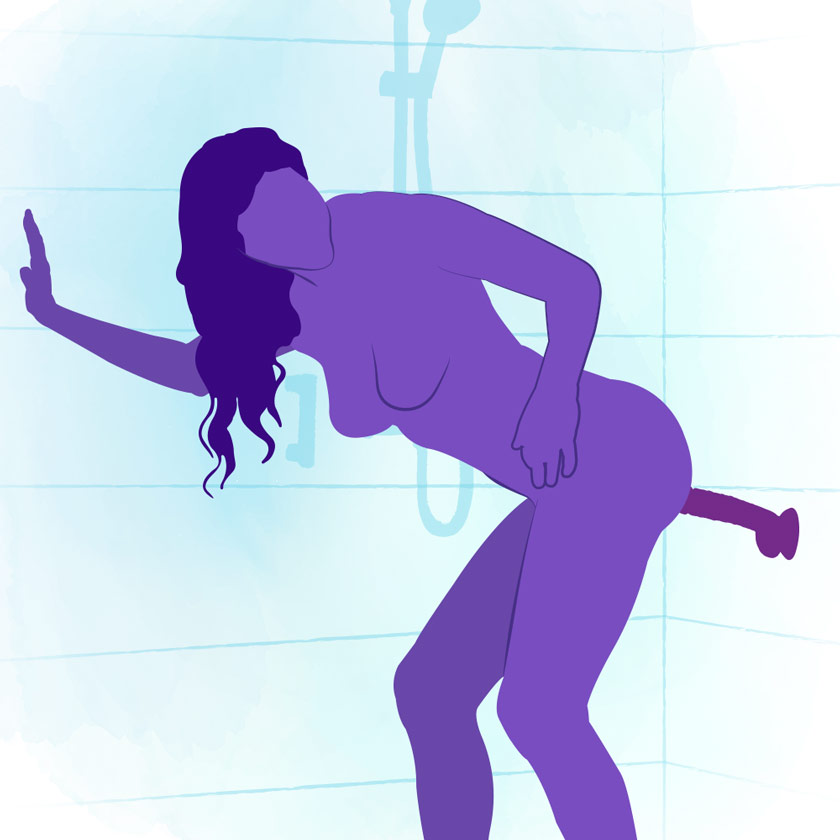 A sturdy, smooth flat surface is a must for your suction cup, and then you're away! Wooden or tiled floors or walls are the most tried and trusted options, opening up your play to a number of locations in the house.
Bathroom:
A popular aquatic themed location is the bathroom, with great waves to be made in the bathtub or shower.
The side of a bathtub means you can straddle the dildo (as you would a partner) by sticking the dildo to the side of the tub and lowering yourself down onto it to ease into your rhythm.
If the added dimension of warm water running over your body as you pleasure yourself ticks all the boxes, stick your friend to the shower tiles at a height that's right for you and ride away to your heart's content.
If the shower head ends up providing extra stimulation then life just gets better and better.
The toilet seat gets a firm thumbs up from our community members as it provides a good height and sturdy base for your bouncing endeavours.
A slight variation on the toilet seat was brought to our attention by one member who advised: "Stick it on the toilet cistern, bend over and back onto it and support your weight by grasping the toilet seat and rock."
Multipurpose furniture:
Chairs have the advantage of giving you something to hold onto while you ride your dildo.
Stick your dildo to the seat of the chair and face the back of the chair, using its back for added support and to take the pressure off your legs from doing all the hard work.
If you are fortunate enough to have access to a massage table, they can also make excellent bases for your suction dildo play as they are designed to be able to take the weight of most adults. We would advise you to lower it to its lowest level for safety.
---
Mirror Mirror on the Wall
Or floor. Mirrors provide the perfect surface for attaching your dildo to, and give you the added bonus of a fantastic view.
Watch yourself ride up and down on your dildo by attaching it to a mirror on the floor, or if you have a wall mirror that has a stable mount, doggy-style with extra visual stimulation (for you and your partner) is the name of the game for you.
---
Strap it On
Ever versatile, most suction cup dildos can be teamed with a variety of strap on harnesses, creating lots of exciting play options for you and your partner.
Teaming your suction cup dildo with a harness does not limit your play to a female penetrating a female scenario.
If your man is up for it, you could also explore anal penetration - a fantasy that many straight men wish to indulge in.
Take a look at our collection of Strap On Harnesses and Kits for further inspiration.
---
The Magic Number
If the idea of a threesome gets you hot and flustered but the reality of another person joining you has been poo-pooed by your partner, a suction cup dildo is a great alternative.
Stick it to wherever you please and ride the 'other' man in the threesome simulation, or perform oral on it while your partner penetrates you from behind (aka a 'spitroast').
These are just a couple of suggestions, but take full advantage of experimenting with your extra erect penis in the room.
---
Good Vibrations
Imagine the feel of a real penis but with the addition of powerful vibrations to turn your play sessions up a notch?
There are many vibrating suction cup dildos available, in all shapes and sizes, and with an array of vibrations to explore - usually with a wired or remote controller to free up your hands.
They can also be used without the vibrations to suit whatever you're in the mood for.
---
The Essentials
It goes without saying that water-based lube will help you on your way to a more slippery, pleasurable encounter with your suck-tastic friend.
To keep things squeaky clean, we recommend a tip-to-sucker wash with a sex toy cleaner, and somewhere safe and dry to store it until its next outing.
---
Want to find out more?
---